Top 10 Cheapest Places to Visit In Mexico in 2024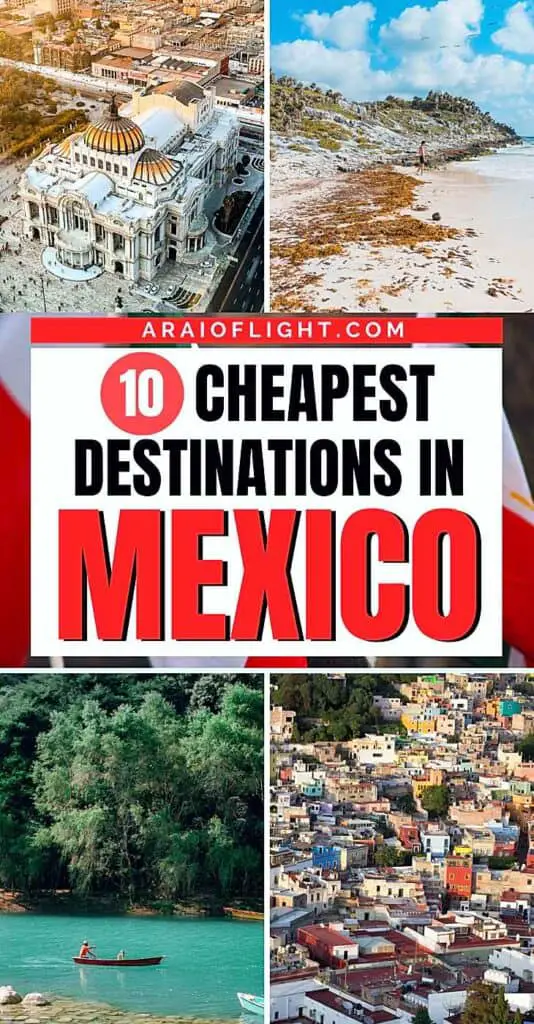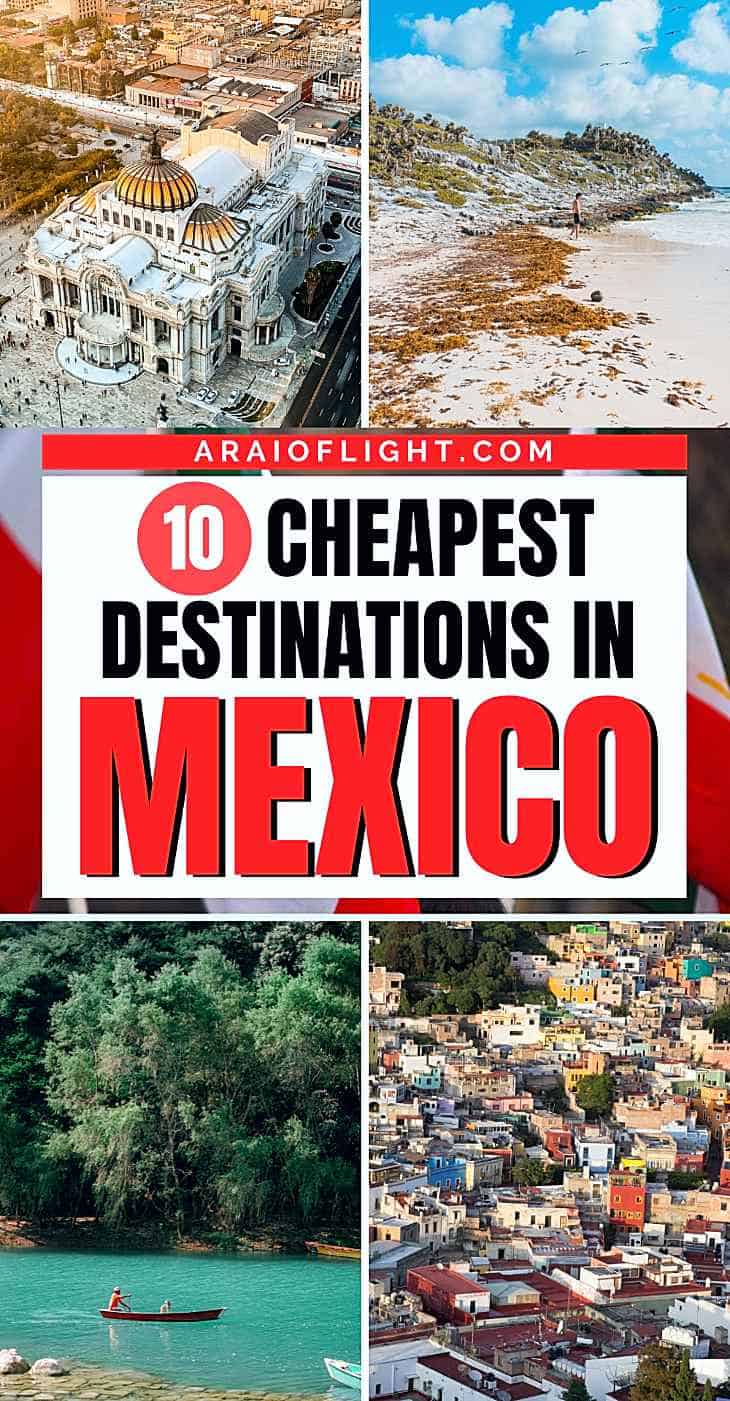 So you've got an adventurous soul, a tight wallet, and are looking to visit some cheap places in Mexico? I can help. Read on 'coz I'm about to spill the frijoles on how affordable it can be to visit the vibrant United Mexican States.

Get ready for a fiesta of savings and unforgettable experiences in Mexico on the cheap!
Quick Overview on the most affordable places to visit in Mexico
Is Mexico cheap? Mexico is a spectacular country renowned for its incredible culture, delicious food, diverse landscapes, and affordable prices. However, as Mexico's popularity as a tourist destination soars, so have the prices in many of the country's most popular regions.

Destinations like Cabo, Tulum, and San Miguel de Allende have developed such a reputation amongst wealthy international travelers that prices for attractions, accommodation, and restaurants are now nothing short of eye-watering.
However, there are many, many more cheap vacation destinations in Mexico where prices remain reasonable, and the experiences more authentic. From sprawling metropolises and vibrant destinations to charming beach villages and everything in between, here are 10 of the most affordable regions in Mexico to explore.
So grab your pasaporte and let's dive into this ultimate compilation of the cheapest places to visit in Mexico in 2024!
>> Read next: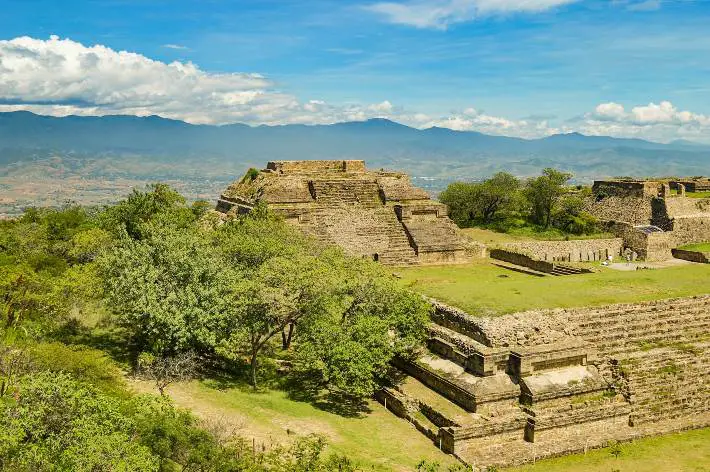 The Cheapest Places in Mexico to Visit
Is it cheap to go to Mexico?
Mexico, for the most part, is generally affordable.
Budget travelers can get by on around $30 – $50 USD per day.

The Yucatan region is more expensive than other parts of Mexico due to its location and abundance of visitors. The cheapest airports to fly to in Mexico include Cabo San Lucas, Mexico city, Cancun, and Puerto Vallarta.

The exchange rate between the Mexican peso and other major currencies is relatively favorable. Which means that your hard-earned cash stretches further than ever before while exploring this magnificent country. Don't forget to do that happy currency conversion dance every time you pay for something!
Where is the cheapest place to go in Mexico 2024?
Without further ado, let's get into our list of Mexico cheap places to visit and how to have the most affordable Mexican experience while you're there…

Are you ready to exploring Mexico on a shoestring budget?

Let's go! ⬇⬇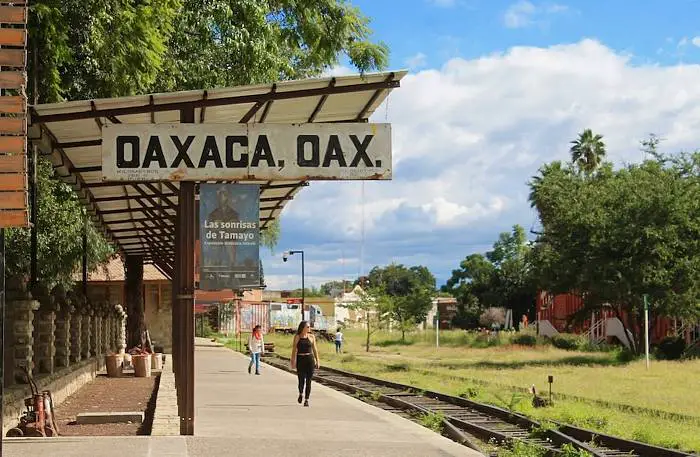 Where is the cheapest place to visit in Mexico?
First up
1| Oaxaca City
Oaxaca is the artistic and cultural epicenter of southern Mexico. It is also a place where an affordable and authentic Mexican experience is still available.
Oaxaca is most well known for its indigenous heritage, colonial architecture, traditional culture, and culinary delights. This UNESCO-listed World Heritage city showcases its cultural wealth through vibrant festivals, traditional handicrafts, and ancient ruins.
Immerse yourself in the enchanting atmosphere of the city's main square, the Zocalo. From here head out to visit the stunning Santo Domingo Church. Explore bustling markets, such as Mercado 20 de Noviembre, where you can sample delicious street food and shop for handicrafts at bargain prices.

Not far from the city's historic center, you'll find nearby attractions like the ancient Monte Alban ruins, or the Hierve el Agua with its petrified waterfall formations.
Oaxaca City is also the gateway to the state of Oaxaca where many more affordable adventures await. In the surrounding region you will discover many outdoor activities, ruins to explore, hiking spots, and local villages to learn about local traditions and customs.

Popular cheap Mexico destinations include the famous mezcal town of Santa Catarina Minas, the mountain town of Jose del Pacifico, the traditional indigenous communities of the Pueblos Mancomunados, and the coastal villages of Zipolite and Mazunte.
You should expect to spend around $47 per day on your cheap Mexican vacation in Oaxaca de Juarez, by finding delicious cheap street food from $1, transport around $7 and the rest on accommodation, depending on your budget and level of comfort.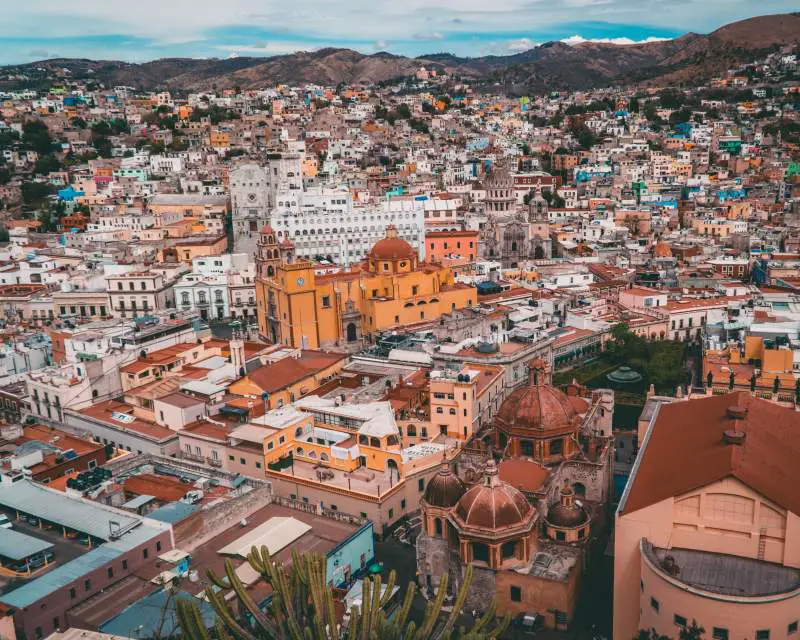 2| Guanajuato
The beauty of the picturesque city of Guanajuato is renowned. This colonial gem is known for its rich cultural heritage, thriving arts scene, and fascinating underground tunnels.
Explore the historic center, a UNESCO World Heritage site, and wander through the labyrinthine streets, the narrow alleys, and charming plazas. Lose yourself (and maybe even find yourself) while wandering through these picturesque passages adorned with vibrant buildings and colorful murals.
Don't miss a visit to the famous Callejón del Beso or Alley of the Kiss. A local romantic legend has it that if you stand on one side of this incredibly narrow alley and kiss your loved one from across the way, it will bring luck… or at least an entertaining story to tell later.

The grand Teatro Juárez offers entertaining performances that range from ballets to concerts, guaranteeing an unforgettable night out. Plus, the grandeur of the building alone will make you feel like royalty, even if your dancing skills are more akin to a drunk flamingo.

Speaking of entertainment, Guanajuato's infamous Mummy Museum contains a collection of naturally preserved mummies that will give any horror movie fan goosebumps.
While in Guanajuato, don't miss the opportunity to catch the funicular or do some cardio and climb up to El Pipila monument. This observation deck, dedicated to one of the earliest heroes of Mexico's War of Independence, is set on a hill and provides amazing panoramic views of the city below.

Guanajuato is not yet as popular as some other famous Mexican destinations, but throughout the city entrance fees to museums and attractions are budget-friendly. The city also offers affordable accommodations and delicious street food options, making it one of the best cheap places to go in Mexico in 2024.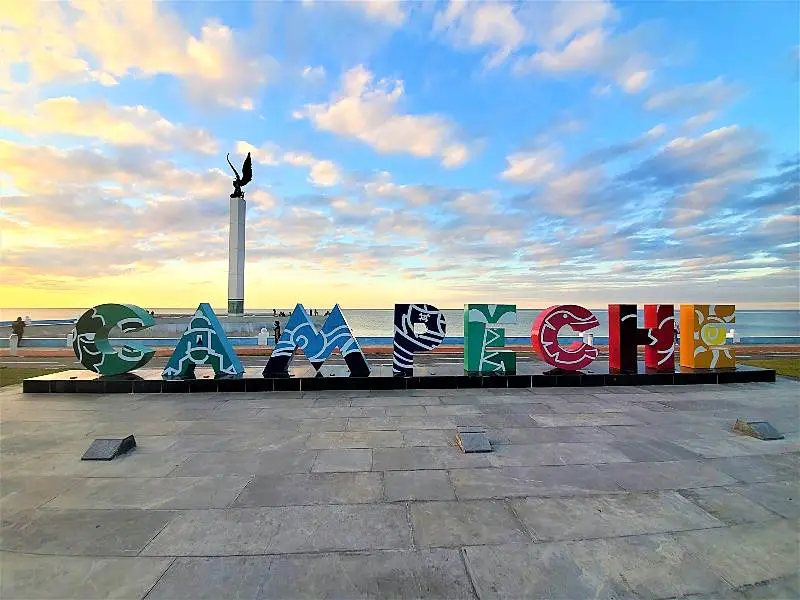 3| Campeche
This colorful port city on the western coast of the Yucatan peninsula offers a great combination of history, charm, and affordability in Mexico.

Explore the well-preserved UNESCO World Heritage Site of Campeche City with its colorful colonial architecture. Stroll along the charming streets lined with pastel-colored buildings, visit the impressive Cathedral of Campeche, and soak in the atmosphere of the central plaza, Plaza de la Independencia.

The fortified walls that surround the old town were built to protect the city from marauding pirates and the city's most iconic site is the Puerta de Tierra, one of the remaining original city gates.
For cheap vacations in Mexico, you can't go wrong with Campeche. Immerse yourself in the fascinating Mayan and pirate history at the Museo de la Ciudad which showcases artifacts and exhibits related to Campeche's rich cultural heritage. For panoramic views of the city and the Gulf of Mexico, climb up to the Baluarte de San Francisco, one of the old fortresses.
The city's coastal location also provides opportunities for budget-friendly outdoor activities. Stroll along the Malecón, the long waterfront promenade, relax on the nearby Playa Bonita, or take a boat tour to see the famous pink flamingos in the Ría Celestún Biosphere Reserve.
Around Campeche, don't miss the opportunity to explore the nearby archaeological sites, such as Edzná and Calakmul, which offer a glimpse into the ancient Mayan civilization at reasonable entrance fees.
One of the best things to do in Campeche is to sample some of the unique and delicious Yucatan cuisine a unique blend of Mayan, European, and Caribbean flavors.

Sample the traditional dish of pan de cazón (dogfish shark in tortillas), cochinita pibil a slow-roasted and pulled pork, and the local camorones al coco or coconut shrimp at local eateries and market stalls which serve up authentic regional flavors without breaking the bank.
Campeche has affordable accommodation options with both cozy guesthouses to budget-friendly hotels, making it an ideal destination for travelers on a cheap budget in Mexico.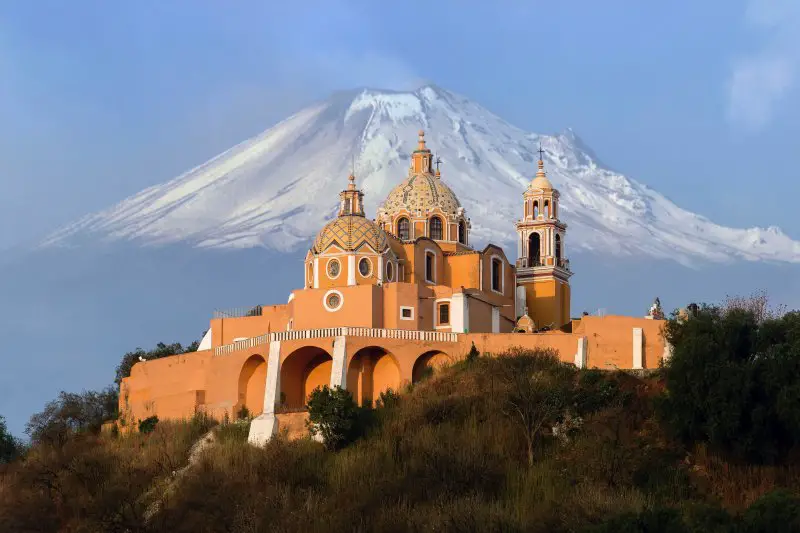 4| Puebla
Located just a couple of hours from Mexico City, Puebla is another colonial town that belongs alongside these cheapest Mexico destinations in 2024. Puebla is particularly known for its architecture, culinary pedigree, Talavera pottery, cobblestone streets and as the land of mole and volcanoes.

Like many colonial towns, wandering through the historic UNESCO World Heritage center is one of the best things to do in this charmingly cheap Mexican city and is absolutely free.
Discover the stunning Catedral de Puebla. Indulge in Puebla's famous cuisine, such as mole poblano and chiles en nogada at local eateries offering affordable food options.
The picturesque Zócalo of Puebla is surrounded by grand pastel colonial buildings, including the majestic Puebla Cathedral. In addition, you can enjoy live music while you sit down to taste delicious and cheap tacos al pastor at one of the many street stalls.
Don't miss a visit to the beautifully decorated Capilla del Rosario within the Church of Santo Domingo.
Head to Callejón de los Sapos or commonly known as the Alley of the Toads. This bohemian side of Puebla is a small corner full of life and antiques. This locations is perfect for finding low-priced treasures from vintage furniture to unique curiosities. You can also simply enjoy the relaxed atmosphere with a craft beer in hand.
If you are a fan of art and architecture, the International Baroque Museum museum will leave an impression on you. Housed in a stunning building, designed by renowned Japanese architect Toyo Ito, the International Baroque Museum offers a unique visual experience. Explore exhibitions celebrating the Baroque movement in all its forms and be inspired by the beauty of the works of art on display.
Puebla also serves as a gateway to explore the nearby Great Pyramid of Cholula, the largest pyramid in the world by volume. Enjoy a panoramic view from its church at the top and the stunning landscapes of the Popocatépetl and Iztaccíhuatl volcanoes.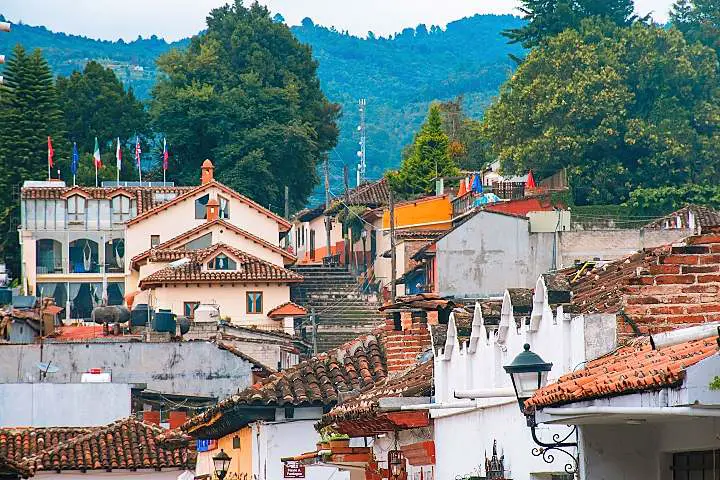 5| San Cristóbal de las Casas
One of our favorite towns in the country and also one of the best value affordable destinations in Mexico, San Cristobal is de las Casas can be found in the highlands of Chiapas. San Cristóbal offers a unique mix of indigenous cultures, cobblestone streets, colorful markets, and natural beauty.
Explore this highland city's colonial architecture, including the stunning Santo Domingo Church and immerse yourself in the vibrant arts and crafts scene at the indigenous market of El Templo de San Cristóbal.

For another shopping experience that won't empty your pockets, head straight to Mercado de Santo Domingo. This bustling market is a treasure trove for budget-conscious travelers seeking authentic souvenirs, handmade crafts, textiles, and fresh produce from local farmers — all at bargain prices! 

Embark on a day trip to the nearby Sumidero Canyon or visit the traditional villages of San Juan Chamula and Zinacantán to experience indigenous rituals and crafts.
San Cristobal has a number of delicious restaurants with both local flavors and, surprisingly for a town of its size, a wide range of international flavors such as Italian, Indian, Korean, and Argentinian to name a few. Delicious street food stalls and local eateries offer mouthwatering dishes at unbelievably low prices. Fill your tummy with traditional Mexican delicacies like tamales, empanadas, or indulge in some sizzling tacos al pastor while still keeping your wallet pleasantly plump.
San Cristóbal also provides pocket-friendly accommodation options with many local guest houses, hostels, and boutique hotels available. From cozy hostels brimming ideal for backpackers to affordable guesthouses offering comfort without compromising on location – you'll find your perfect abode here. And who needs fancy hotel amenities anyway when you have stunning landscapes just waiting to be explored?
Take a stroll through the picturesque El Arcotete, an enchanting natural tunnel surrounded by lush greenery. Or hike up to Mirador Cerro de San Cristóbal for panoramic views of the city and surrounding mountains.

San Cristóbal, the cheapest place to vacation in Mexico, is the perfect base to explore Chiapas which features some of Mexico's most impressive waters, ruins, lakes, and a plethora of other awe-inspiring natural wonders that won't cost you a dime and a dozen.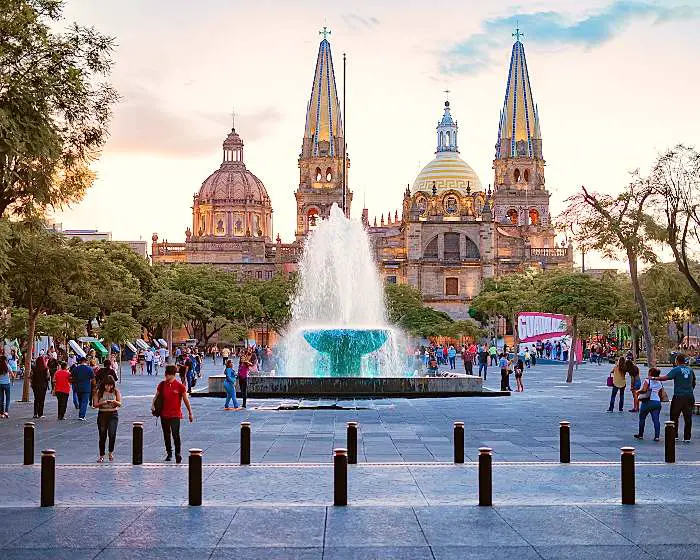 6| Guadalajara
Next up on this list of cheap vacation spots in Mexico is Guadalajara. Mexico's second-largest city has a fascinating mix of old and new, with important historic significance and vibrant culture.
The heart of the city, Plaza de los Mariachis, is where you will find musicians and mariachi bands serenading passersbys with soulful sounds. Grab a margarita, sing along, and let the music transport you into a world of latino passion.
Stroll through the historic center and admire the Hospicio Cabañas, a UNESCO World Heritage site featuring murals by the famous Mexican artist José Clemente Orozco. These thought-provoking pieces will get you pondering life's deepest questions.

Visit the Rotonda de los Jaliscienses Ilustres and explore the city's art scene at the Instituto Cultural Cabañas.

Get lost in the bustling Mercado Libertad, where you can savor traditional Mexican dishes at affordable prices. The largest indoor market in Latin America, also known as San Juan de Dios Market, offers a mind-blowing range of fresh and prepared foods, arts, crafts, and pretty much anything you can think of. Again, at affordable prices.

Tlaquepaque is another shopping haven that is ideal to find a piece of Mexico's rich cultural heritage.
Guadalajara is also the capital of Mexico's national spirit, tequila. Any visit must include indulging in some of this liquid gold. Get aboard the Tequila Express train that takes you on a journey through agave fields where you can tour distilleries, learn about the tequila-making process, sample different varieties, and maybe even end up doing the Mexican hat dance after a few shots.
Alternatively, make for the Pacific coast to explore the coastline of Jalisco or the Riviera Nayarit.
7| Puerto Escondido
For beach lovers on a budget in Mexico, Puerto Escondido on the Pacific coast of Oaxaca is a great alternative to expensive destinations the likes of Tulum or Cabo. This laid-back surf town offers affordable vacations in Mexico, that include stunning beaches where you can catch a wave or simply soak up the sun.
You will also find plenty of inexpensive accommodations ranging from backpacker hostels to private beachfront bungalows.
If you're a wave enthusiast or simply enjoy improving your surfing skills, Puerto Escondido is the place to be. With its world-renowned surf breaks like Zicatela Beach, also known as the "Mexican Pipeline," you can expect to catch some gnarly waves.

Puerto Escondido is also popular for indulging in good food. From street-side taco stands serving up flavorsome fish tacos to cozy beachfront restaurants offering fresh seafood, your taste buds will thank you for this trip.

Hidden gems like Carrizalillo Beach and Manialtepec Lagoon offer the perfect opportunity dive into crystal-clear turquoise waters, swim alongside sea creatures, and to simply let your imagination swim wild. 
To extend your cheap Mexican adventure, head north and take a boat through the mangroves to reach the untouched paradise of Chacala, or venture south toward the laid-back beaches of Zipolite and Mazunte.
In this part of the world, time slows down like it had one too many margaritas at sunset. Embrace the laid-back vibes and take relaxing siestas on gorgeous beaches while sipping ice-cold cervezas from coconuts (tiny umbrellas optional). Stress will become a distant memory as you soak up the sun and let all your worries wash away with each crashing wave.
Puerto Escondido also makes this series of the cheapest beach towns in Mexico. Be sure to check out the full list.
8| San Pancho
When searching for cheap places to travel in Mexico, you can't go wrong with San Francisco Nayarit, affectionately nicknamed San Pancho. This spirited coastal town is a hidden gem found on Mexico's Pacific coast, just north of Puerto Vallarta.
This tiny laid-back beach village offers a more affordable alternative to the more popular Mexican tourist beach destinations.
San Pacho has some of the most breathtaking beaches in Mexico with crystal-clear turquoise waters and sandy shores, perfect for soaking up that glorious Mexican sun while sipping on a refreshing margarita (or two!). Relax on the tranquil sandy beaches, enjoy the warm waters of the Pacific Ocean, and witness the mesmerizing sunsets.
Prepare to be captivated by the colorful charm as you wander through the vibrant streets of San Pacho. Filled with lively murals, cute shops selling handmade crafts, and markets offering economical traditional goodies, every corner tells a story waiting to be discovered. 
Explore the vibrant art scene and support community projects with a visit to the Entreamigos community center where you can find locally made crafts.
Prepare your taste buds for an explosion of flavors because San Pacho is home to some seriously mouthwatering tacos at local street vendors and family-owned taquerías. From classic carne asada to exotic seafood varieties, these riquísimo bites will leave you feeling completely satiated, and at a very good price.
On top of that, you may be excited to hear that San Pacho takes pride in its world-renowned tequila distilleries, where you can sample various blends straight from the source while learning about the production of this iconic Mexican spirit.
San Pacho will also give you a real taste of adventure with its lush jungles and thrilling outdoor activities. Embark on an adrenaline-pumping zip line tour, explore hidden cenotes, or take a hike through trails that lead to pretty waterfalls.
San Pancho also offers budget-friendly accommodations, cozy guesthouses, and delicious street food options. Take a leisurely stroll through the town's streets, visit the colorful shops, and embrace the relaxed atmosphere of this charming coastal paradise town.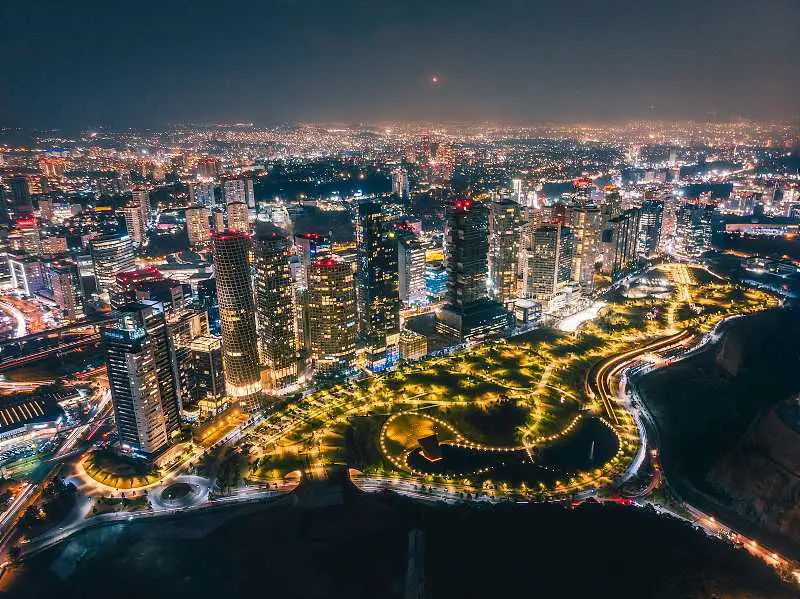 9| Mexico City
Mexico City, the vibrant capital, is a must-visit destination that caters to travelers of all budgets. While some barrios in Mexico City have become quite expensive to visit, the vast majority of Mexico City remains affordable to live or visit.
It doesn't cost a thing to immerse yourself in the city's rich history and culture by exploring landmarks such as the Zócalo, the main square, and the impressive Metropolitan Cathedral. Soak up the sun, people-watch, and enjoy an abundance of free outdoor activities.
Channel your inner art critic, marvel at ancient artifacts, and immerse yourself in the vibrant history of this buzzing city without being harsh on your travel budget. Many of the city's museums offer cheap or even free admission one day per week, including the Museum of Modern Art and Palacio de Bella Artes which have free entry on Sundays.
Exploring the city's huge public parks, experiencing affordable Lucha Libre shows, and taking cheap day trips to nearby attractions like the canals of Xochimilco and the ancient city of Teotihuacan are just some of the fun, unique, and affordable activities in Mexico city. Head over to the bustling Mercado Sonora market, where haggling is an art form.
La ciudad de Mexico is also one of the world's most celebrated gastronomic hubs and indulging in a tour of some of the city's most mouth-watering taquerías can be afforded with some forward planning and a pocket full of change. Your taste buds are in for a treat as you indulge in sizzling tacos, quesadillas, and tamales from local vendors. With prices so low, your stomach will thank you while your wallet does a little dance.
Forget expensive taxis or uber rides; it's time to tango with public transportation. You can take advantage of the city's efficient public transportation system to get around without spending a fortune. Hop onto the Metro system like a true Chilango and explore different neighborhoods without breaking the bank. 
This huge metropolis has plenty of budget-friendly accommodations from cozy guesthouses to well-priced hotels, making this a top contender when looking for cheap places to visit in Mexico.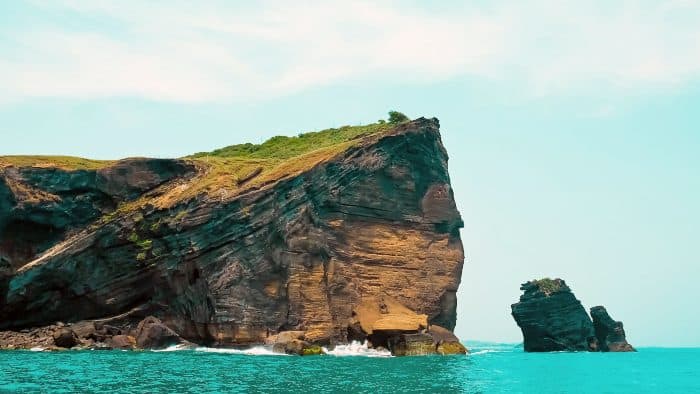 10| Veracruz
Veracruz, on Mexico's Gulf Coast, is a fantastic cheap Mexican vacation spot with heaps of attractions and experiences that won't blow the budget.
The city has a fascinating history and unique culture. Veracruz boasts a vibrant mix of indigenous, Spanish, and Afro-Caribbean influences which can be seen in its architecture, traditions, and cuisine.
Exploring the city's colonial-era buildings, visiting museums, and attending local festivals are just a few of the local cultural experiences on offer that won't strain your wallet.
Around Veracruz, there are plenty of outdoor adventures to experience with ancient ruins, golden beaches, and green jungles waiting to be explored. Visitors can discover the El Tajin archaeological site, hike in the Cofre de Perote National Park, or take a boat tour to experience the beauty of the nearby islands, all at affordable prices.
Veracruz is particularly popular amongst foodies, especially those on a budget. Street food stalls and local markets offer a wide variety of inexpensive and mouthwatering options, such as tacos, empanadas, and churros. Make sure to try some of the seafood dishes for which the town is renowned, especially the famous Veracruz-style red snapper.
Veracruz also offers a wide range of affordable accommodation options, including budget hotels, hostels, and guesthouses. Travelers on a budget can find comfortable and clean rooms at reasonable prices.

What's more, with excellent transportation networks, it is easy and affordable to get around the city and explore the surrounding areas. Public buses and taxis are affordable, and many attractions are within walking distance of each other. There is also a convenient and cost-effective ADO bus service that connects Veracruz with other major cities in Mexico.
>> Read next:
Your guide on how to apply for the Mexico tourist card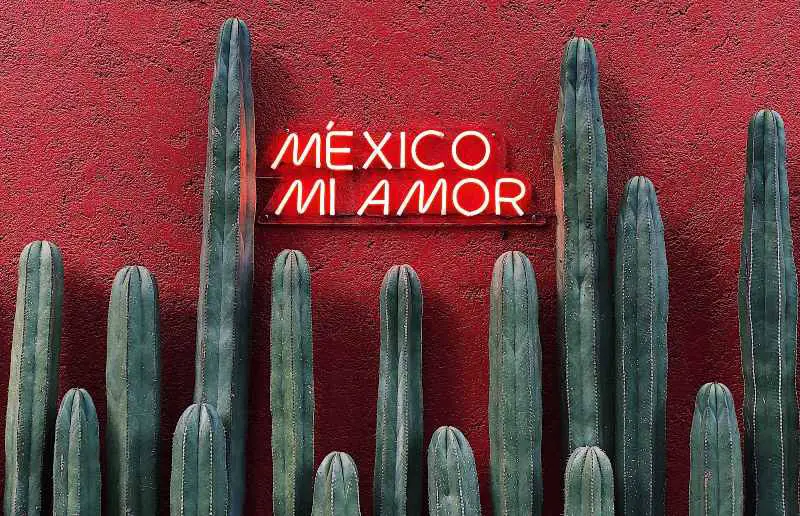 10 Tips for Budget Travel in Mexico
I hope that these cheapest places to visit in Mexico have provided you with a whole lot of inspiration. Before we end, let's take a look at my top tips to discover Mexico on the cheap.
Travel during the shoulder seasons.
Consider visiting Mexico during the off-peak months when prices for accommodations and

flights

tend to be lower. These months are typically April to May and September to October. High season is considered to be November, December, and January. In particular, avoid major holidays and popular tourist seasons to get the best deals.



Use local transportation when possible.
Instead of relying on taxis or private transfers, utilize public transportation options such as buses or shared vans (colectivos) which are common in Latin America to get around. They are often much cheaper and a more authentic way to travel in Mexico.



Look for affordable accommodations like hostels, guesthouses, or budget hotels instead of large luxury hotel chains.
Consider staying in less touristy areas which tend to offer better rates. Websites like Hostelworld, Booking.com, or Airbnb can help you find budget-friendly options. Be aware that some areas in Mexico are safer than others, research before you go.



Eat like a local.
Explore local eateries and street food stalls to sample delicious and inexpensive Mexican cuisine. Avoid dining in touristy restaurants near popular attractions, as they are often more expensive.



Take a water bottle with a filter.
As a general rule, it is not safe to drink the water in Mexico, although larger hotels and restaurants may have their own filtration system. Take a water bottle with a filtration system to avoid paying for water.



Negotiate prices at markets.
When shopping at local markets or street vendors, don't be afraid to negotiate prices. Bargaining is a common practice in Mexico, and you may be able to get a better deal. In fact, if you pay the first price offered at the market you might find your trip becomes very expensive, very quickly.



Focus on exploring free or low-cost attractions.
Mexico is filled with cultural and natural attractions that are either free or have a minimal entrance fee. Take advantage of these cheap things to do in Mexico to explore the country without breaking the bank.



Use local SIM cards or Wi-Fi hotspots
instead of relying on expensive international data plans. It is cheap and easy to purchase a local SIM card from the airport upon arrival, Telcel is the national carrier and gets the best coverage. Alternatively, utilize free Wi-Fi hotspots available in many cafes, restaurants, and public areas.



Plan activities in advance.
Research and plan your activities ahead of time to take advantage of early bird discounts or combo deals. Look for online promotions, coupons, or discounted tickets for attractions, tours, or activities. In addition to saving money, you may also get to skip the queue to particularly popular attractions.



Learn some basic Spanish phrases.
Knowing a few basic Spanish phrases can help you communicate with locals, navigate better, and potentially avoid being overcharged for certain services.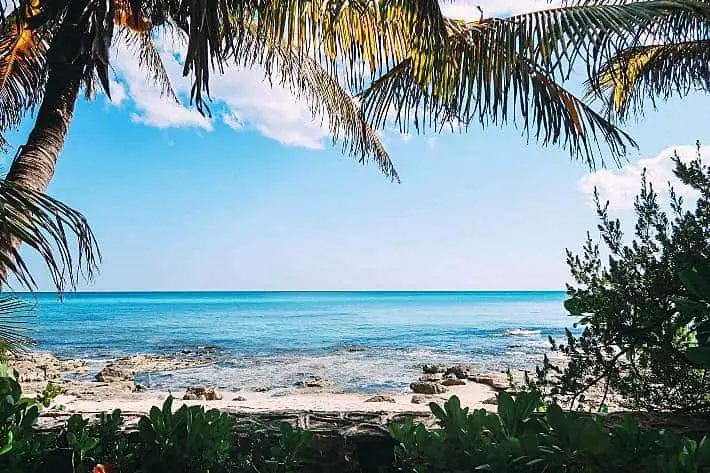 Conclusion on these cheap places in Mexico 2024
There is still a broad range of cheap destinations in Mexico that cater to budget-conscious travelers, without compromising on beauty, culture, and adventure.

From charming beach towns like San Pancho to bustling metropolises like Mexico City, these economical destinations provide unforgettable experiences without breaking the bank.
In fact, by heading off the beaten path to some of the more affordable places of Mexico, you will surely discover a more genuine and authentic experience.
Hope you have an unforgettable Mexican fiesta!
If you have any questions or need additional info about any of these amazingly affordable Mexico destinations to visit or even to live, be sure to reach out and I'll be more than happy to help you out.

Don't forget to check out these quotes about Mexico and affordable Mexican beach towns for even more inspiration
¡Buen viaje!
Rai