10 Cheap Places To Live in Mexico on the Beach → Most Affordable Beach Towns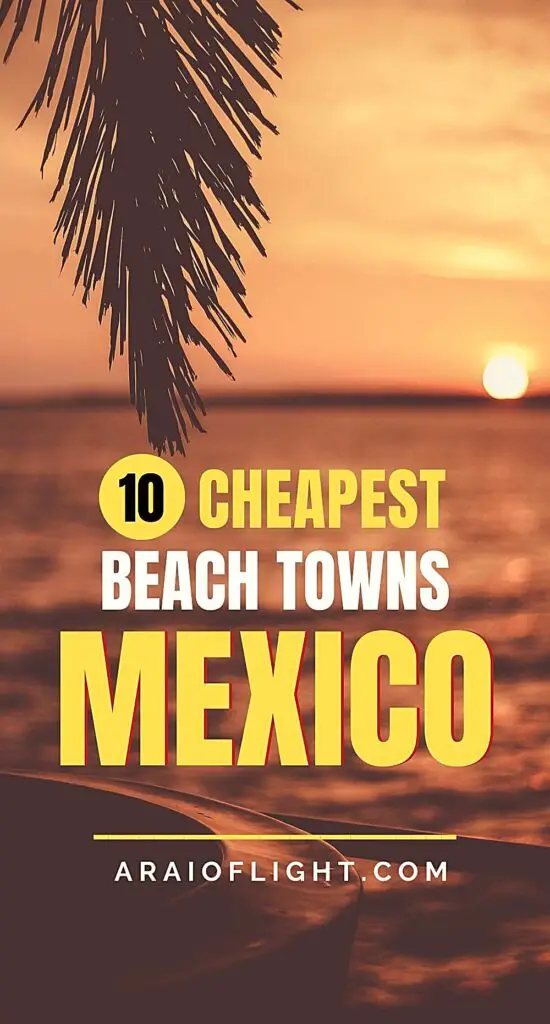 Looking to visit the most beautiful and affordable beach towns in Mexico? I can help!
Quick Overview on Mexico's Beach Towns
Where is the cheapest place to live in Mexico on the beach?
Whether you're looking for a relaxing vacation, or a a comfortable relocation option, Mexico has some great choices! On the beaches of Mexico, you'll find some of the most beautiful coastlines to explore and enjoy. 
Continue reading as I talk about the most affordable beach towns in Mexico. Some, like Puerto Vallarta, are more populated. Others, like Progreso, are more remote and private. 
Whether you like a more Americanized experience or a more authentic Mexican environment, this list of cheap places to live in Mexico on the beach has something for you.
>> Read next:
The Most Affordable Beach Towns in Mexico
Without further ado, let's get into our list of Mexico cheap beach towns and how to have the most affordable experience while you're there!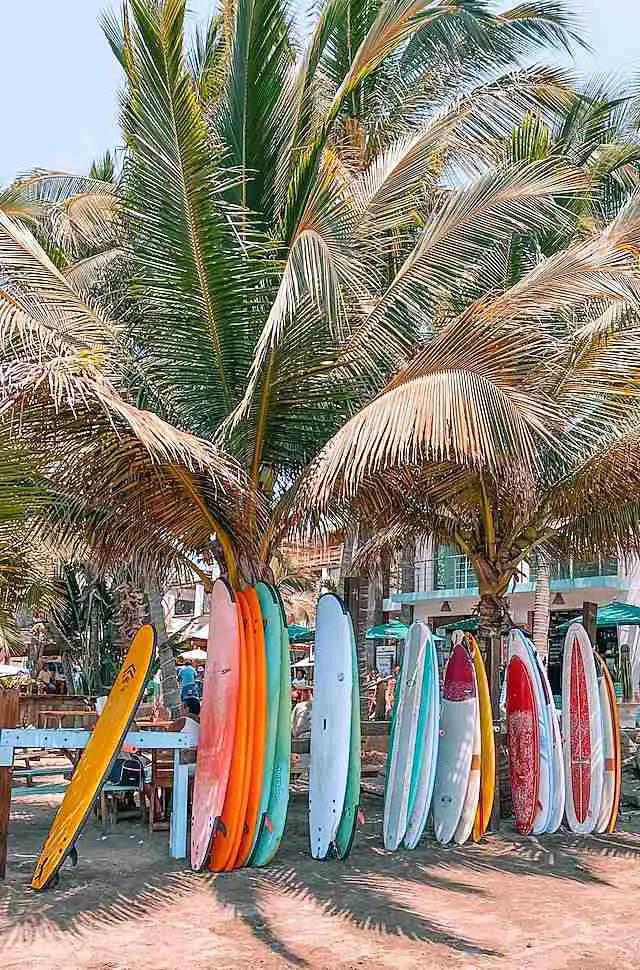 1| Sayulita
Sayulita is quickly becoming a popular destination among travelers to Mexico's Pacific Coast. It's a quiet fishing village about 45 minutes north of Puerto Vallarta. It's perfect for those who want an affordable Mexico beach town experience. 
It hasn't blossomed as a full-on tourist destination yet, so it's still quite affordable compared to some other more popular destinations. 
You can still find lodging, food and activities all for reasonable prices! 
Sayulita has some of the best surfing around! There are lots of opportunities for lessons or to have a local take you out and show you the ropes.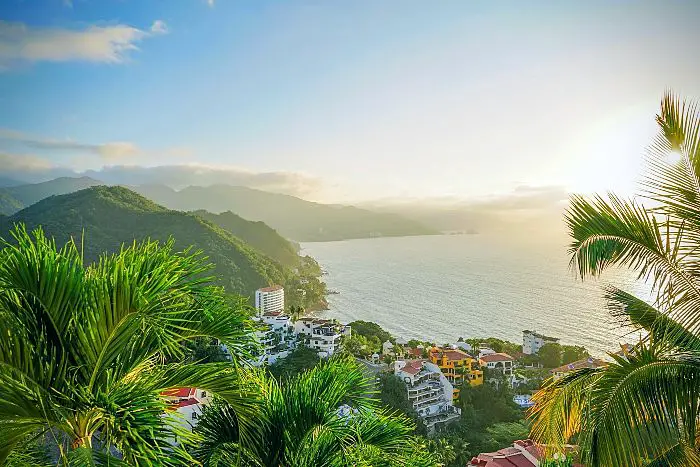 2| Puerto Vallarta
Just a short ride south of Sayulita is the popular destination of Puerto Vallarta. It's always surprising how affordable Puerto Vallarta is when I have visited it over the years. For how big it is and how popular it is, it's still very budget-friendly!
Even along the Malecon, one of the most populated areas, you can find reasonably priced restaurants in a high-end, upscale environment with good quality food, along with some of the cheapest beaches in Mexico.
Transportation is also affordable in Puerto Vallarta. Ubers are surprisingly cheap. I took a half hour ride that only cost about $6 USD (before the tip). 
There are plenty of unique things to do in Puerto Vallarta, and even some that are free, like the Cerro de la Cruz lookout point that gives you a nice view of the city from a tower after climbing what will feel like a huge number of stairs (you can do it!).
Puerto Vallarta also has the most beautiful sunsets! Every night treats you to a bright show of reds, oranges, and yellows that are simply stunning!

You should also know that Puerto Vallarta often tops the list of the best digital nomad destinations in Mexico, so it's another great reason to consider as a cheap place to live in Mexico on the beach.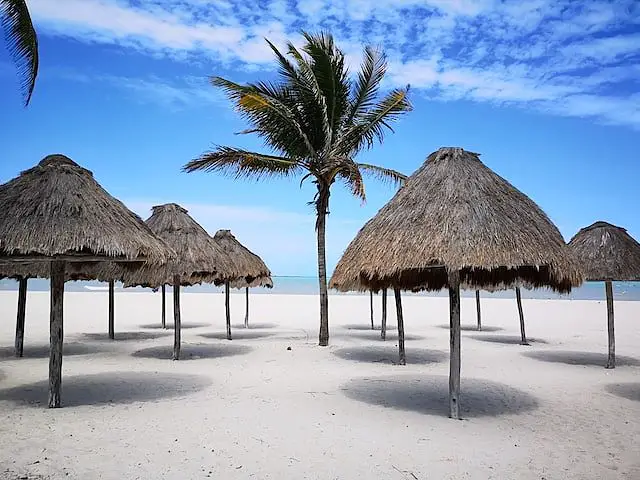 3| Progreso
Mérida, is often considered as one of the safest cities in Mexico and offers a low cost of living. A short drive north of Yucatan's capital city of Merida you'll find Progreso. It's the smallest town on our list of cheap places to live in Mexico on the beach, but it has some unique characteristics.
For instance, Progreso is home to the longest pier in the world, at over 4 miles long! Most of it isn't accessible unless you're arriving on a cruise ship, but it sure is something to see that pier stretching out into the horizon, beyond your line of sight.
It's another destination that hasn't blown up yet, so it's still affordable. There isn't a lot there, but that might be to your taste if you're looking to escape. 
Progreso is a sneaky great place to find good food. Crabster and Eladios both offer great menus with seafood options that won't break your budget.
There are some fun beach front bars with tropical beverage offerings that are a welcome refreshing break from that strong Mexico sun.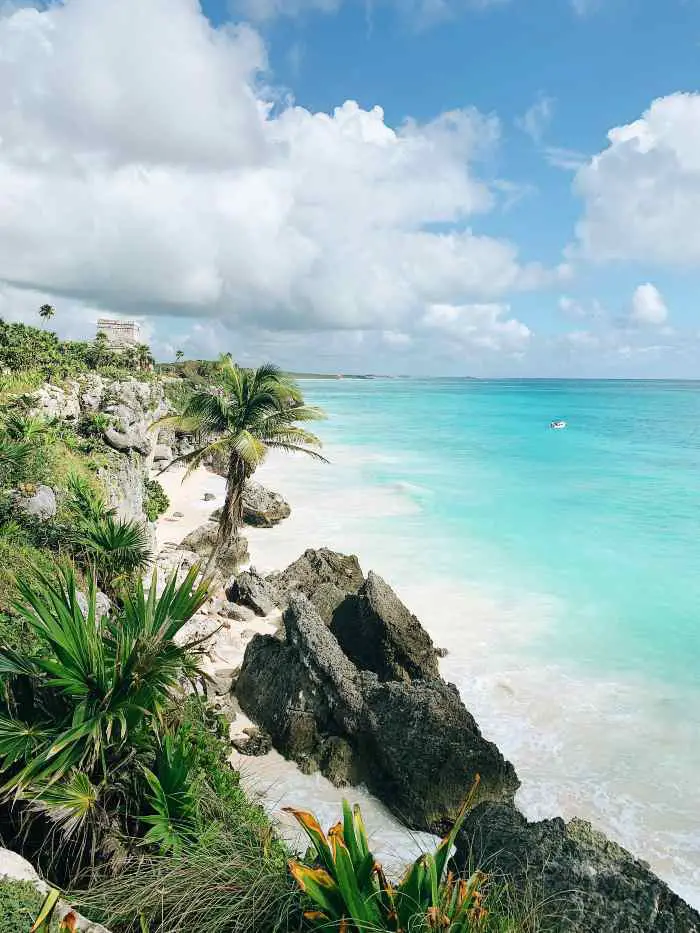 4| Tulum
You might be surprised by the inclusion of Tulum on this cheapest Mexican beach towns list, but hear me out. Tulum beach has become notoriously expensive and overpriced. Tulum Pueblo, however, is still quite affordable. If you don't mind riding a bicycle, you can enjoy Tulum in an affordable way.
Bicycles can even get pricey if you rent them from the vendors on the street, but some of the hotels offer them to guests for a nominal price, or for no charge at all if you're lucky!
By bike, the beach is an easy ride away. There are so many other bikes you don't need to worry about yours getting stolen if you want to leave it somewhere and walk around. 
The bars and dayclub/nightclubs on the beach side can be pretty pricey, but across the street you can find some much more affordable options to hold you over while you enjoy the beach scenery.
Tulum Pueblo is an underrated part of the Tulum experience. The food is good, and tacos are king. It's a great town for a getaway with easy enough access to the beach and all its beauty!
Tulum beach is the hottest destination in all of Mexico right now, and if you're not careful, you'll get overcharged by the tourist traps. Stick to staying in town and keep an eye on those prices and you can see Tulum for a fraction of what everyone else is paying.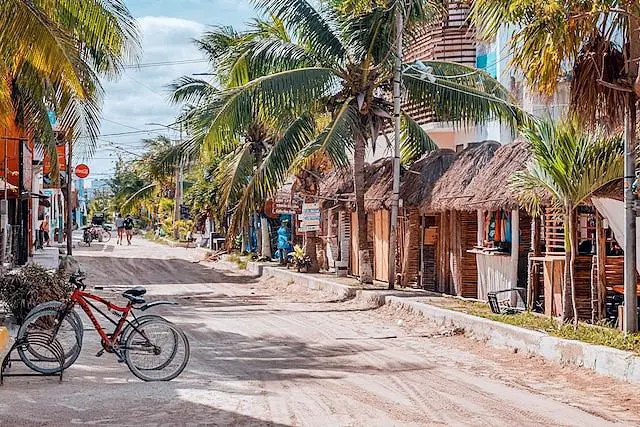 5| Holbox
Holbox is another place where you can end up spending a lot of money if you're not careful. It's growing in popularity as one of the most family-friendly island destinations. So tourist traps are popping up left and right. They work well on Holbox too, because it's an island and "there are no other options".
But wait, there are!
Holbox done the right way can be perfectly affordable. 
First, and most importantly, have plenty of pesos when you arrive on Holbox so you don't get hosed by the exchange rate at the exchange windows and the ATM. 
Paying with a card on Holbox is easy enough most of the time, but you'll want to have some cash on you.
Another way to keep Holbox budget friendly is not to pay for taxis. The golf cart taxis can be pricey. It's cheaper to rent one yourself or walk. I'm quite lazy in real life, so when I travel, I try to walk everywhere I possibly can. Doing this saved me a boatload in Holbox. 
To save money on activities and tours, make sure you book with a local company. Some of the online tour companies aimed at tourists are far more expensive than the local companies.
There are some great activities to take part in, like the unique Bioluminescence Holbox experience. Just make sure to shop prices and go with a local company that knows the ropes. 
You can save some money on souvenirs too by staying away from the indoor shops and opting to shop from the vendors outside in the streets. You'll find better prices for the same products.
The hotels within a few blocks of the port and the downtown area can be expensive, but once you get a few blocks away you can really save some money on a quality hotel. 
If you follow this advice, you won't get taken for all your pesos like some people do in Holbox.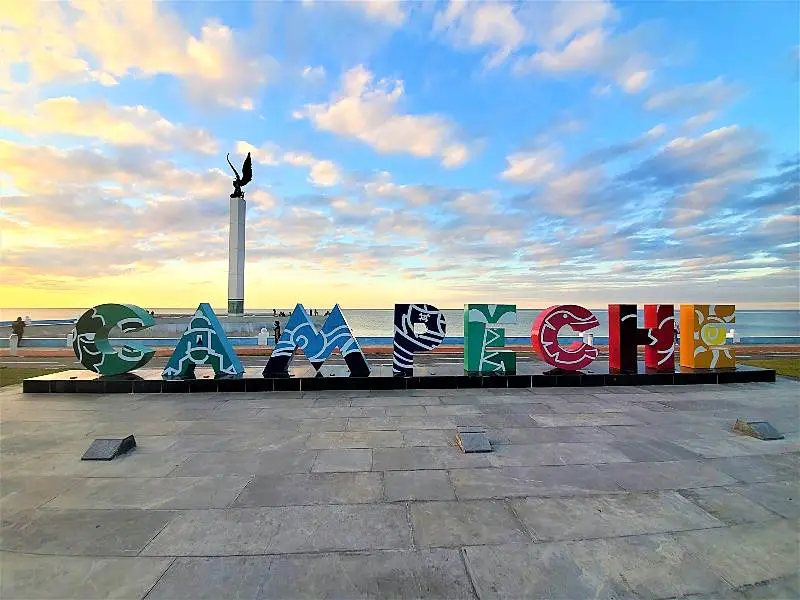 6| Campeche
If you want an authentic Mexican beach town, Campeche is for you. It's the most immersive of the cheap beach towns on our list. By that, I mean it is the least touristy. You'll get a good chance to practice your Spanish in Campeche, as there aren't near as many English speakers as the other Mexican towns on our list.
Campeche city is right on the ocean, but there isn't a lot of actual beach. Along most of the city, the ocean comes right up to the side of the road. It's almost jarring how right on the other side of the wall from the road is the sea.
It does provide some beautiful scenery though, especially around sunset! 
If you're looking for that authentic Mexican feel, you'll find it in Campeche, one of the best places to live in Mexico on a budget.
There are some great activities too, like the Mayan Heritage Museum, which is housed inside an old fort. The fort was built to protect the city from pirates hundreds of years ago. 
Between the old cannons and all the cool Mayan artifacts, many from the nearby(ish) site of Calakmul, you can spend a very interesting afternoon at the fort. 
7| Isla Mujeres
Isla Mujeres is a popular stop for vacationers to Cancun. Surprisingly though, not as many people actually stay on the island, opting instead to stay in Cancun and stop in Isla Mujeres for the day, or whatever their tour includes. 
This is a shame because Isla Mujeres is a quality destination all by itself! The downtown area around the port will be the most expensive of course, but there are some surprisingly affordable hotels and Air B&B options just a few minutes away from the central area.
There are some authentic and good quality local restaurants in the downtown area that don't break the bank, but you can save even more money by eating a little ways away from downtown. The center of the island contains some of the best and most authentic restaurants I tried while on the island.
There are some great activities and tours to take while on Isla Mujeres too. For instance, you can take a tour to Isla Contoy, the nearby uninhabited island paradise. There are some options for sunset cruises and snorkeling for you to enjoy too!
Like we said with Holbox though, make sure you book with a local company in order to save some money and get the best experience.
8| Puerto Escondido
Similar to Sayulita in the way of small surfing villages, Puerto Escondido has a reputation for being a bit of a party spot too. Not quite in the way that Tulum is, but maybe someday it will be, as it is rapidly growing in popularity.
Puerto Escondido is known for its peaceful, laid back atmosphere and beautiful beaches. The beaches in Puerto Escondido vary in style, so there is something for everyone. There are some with big waves that are great for surfers.
There are also beaches that are more calm and provide the tropical style retreat many think of when imagining a Mexican beach town atmosphere. 
This town is a good balance between the immersion of Campeche and the populated Puerto Vallarta. You'll find a little bit of everything in Puerto Escondido. It's a great place to take a class in cooking, dancing, or Spanish speaking.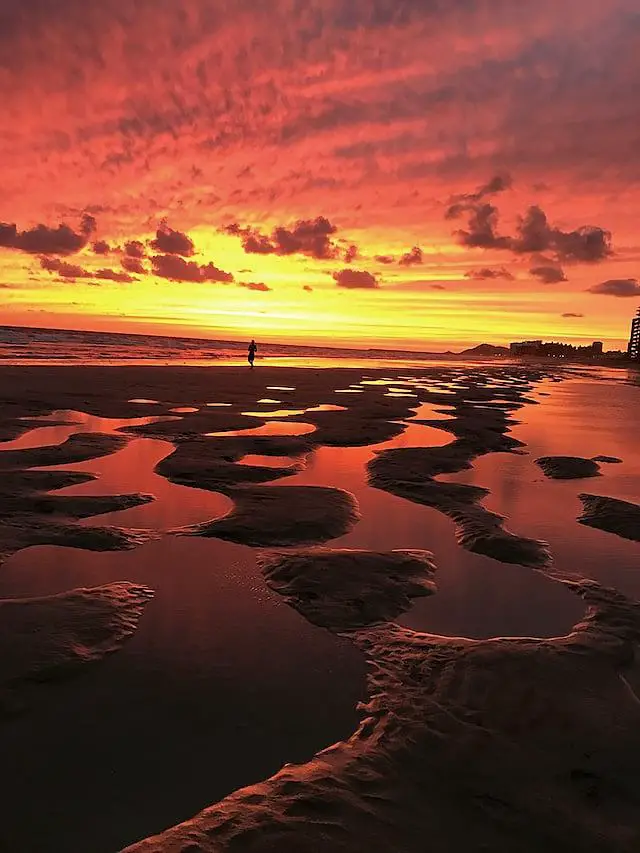 9| Rocky Point/Puerto Penasco
Americans in the Southwest U.S. love Rocky Point. It's within a drivable distance, making it fairly easy to get to. It's got beaches, bars, activities, and sun. It's everything one could want for a quick getaway over a three-day-weekend.
The hotels are affordable compared to other quick getaway destinations in the States. If it's immersion you're looking for, look at almost any other destination on our list. Rocky Point is catered to Americans. Almost everyone speaks English. Lots of the locals are even ex-pat Americans or long-term vacationers.
Rocky Point sits on the Sea of Cortez and is known for its soft sandy beaches and party atmosphere. It's different from some of our other destinations because of its surrounding desert. 
This desert landscape adds the possibility for fun activities like riding ATVs over the dunes. You'll be ready to cool off at the beach or the pool and refresh with a nice drink after this activity and Rocky Point is a great place for all of it!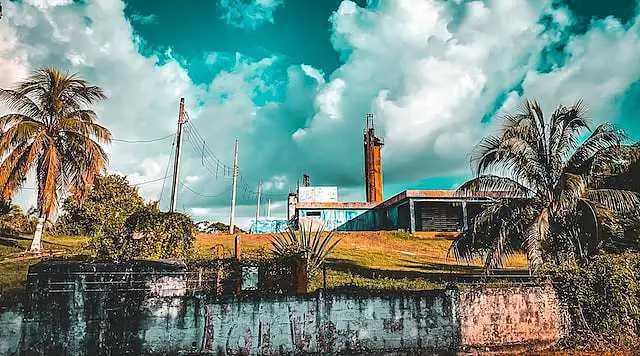 10| Chetumal
For being the capital city of the Mexican state of Quintana Roo, Chetumal is a low-key destination. This is part of why it makes our list of affordable beach towns in Mexico. It's a laid-back village with lower tourist volume.
If you want to visit Bacalar, the beautiful lagoon in Quintana Roo, Chetumal is a good place to stay. It's close by, and you'll be able to find a decent priced tour to Bacalar. If you want to save even more money, you can make your way to Bacalar using local transportation.
There is plenty to see in Chetumal too. There are some great views along the coast. The town has roots as a fishing village, so the seafood there is high quality and affordable. 
Chetumal isn't as big as Cancun, isn't as wild as Tulum, but if you're looking for a laid back place to vacation or relocate, Chetumal may be for you!
If you have any questions or need additional info about any of these amazingly affordable Mexico beach towns to live or just to visit, be sure to reach out and I'll be more than happy to help you out.
Happy beaching 🙂
Rai