Lisbon Off the Beaten Path: 20 Unusual Things To Do in Lisbon
Lisbon, Portugal's capital, is a place you could visit again and again. Though the city has plenty of interesting and amazing tourist attractions, you will find an abundance of unusual things to do in Lisbon. Continue reading to discover Lisbon off the beaten path!
Once I'd had enough of the crowds on my last visit to Portugal, I was ready to check out these alternative and non-touristy activities in Lisbon.
What is the best way to discover Lisbon's hidden gems and secret attractions? Keep reading! This guide has all the quirky, offbeat experiences, and cool things to do in Lisbon that I have personally experienced. 
I can attest to just how cool all of these experiences in Lisbon are! Any of these are great unique things to do in Lisbon alone or with friends. 
Read on to learn about the most unusual things to do in Lisbon off the beaten path!
>> Read next: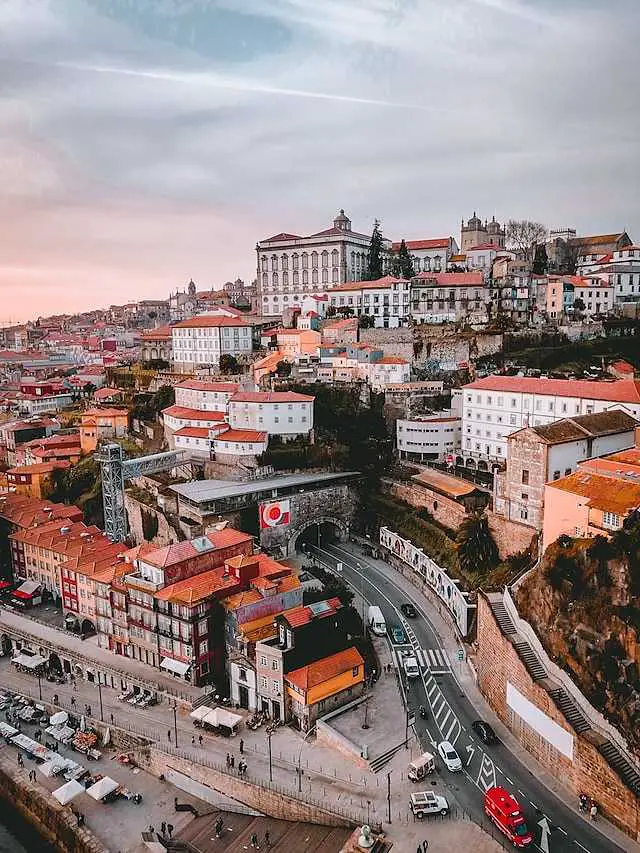 20 Unusual Things To Do Off The Beaten Path in Lisbon
Lisbon is also one of the best cities for digital nomads. Whether you visiting the city for an extensive time or have just 4 days in Lisbon, be sure to check out some or all of these unique experiences and fun things to do.

Also, save this post so that can you easily find it right when you need it.
First up…
1. Panoramico de Monsanto
A visit to the Panoramico de Monsanto is a cool thing to do in Lisbon off the beaten path.

Perched atop the green hills of Monsanto, the Panoramico offers an awe-inspiring experience just outside of the city. This abandoned restaurant-turned-viewpoint treats you to breathtaking panoramic vistas of the cityscape and Tagus River.

Take a leisurely stroll through the surrounding park, immersing yourself in nature's tranquility. Capture instagram-worthy photos of Lisbon or enjoy a picnic amidst the serene surroundings.

Locals and tourists alike are drawn to this hidden gem in Lisbon for its unique blend of urban exploration, outdoor escapades, and the chance to witness the city's beauty from an enchanting vantage point.
2. Tapada Das Necessidades
Nestled in the western part of the city, Tapada das Necessidades is an interesting and unusual thing to do on a trip to Lisbon.

This sprawling park invites you to wander through its vast gardens, adorned with ancient trees, picturesque ponds, and charming pathways.

Explore the enchanting greenhouse or soak up the sun on the lush, sprawling lawn. This serene oasis is a peaceful escape from the busy city, and a tranquil place for leisurely strolls, picnics, and moments of quiet contemplation.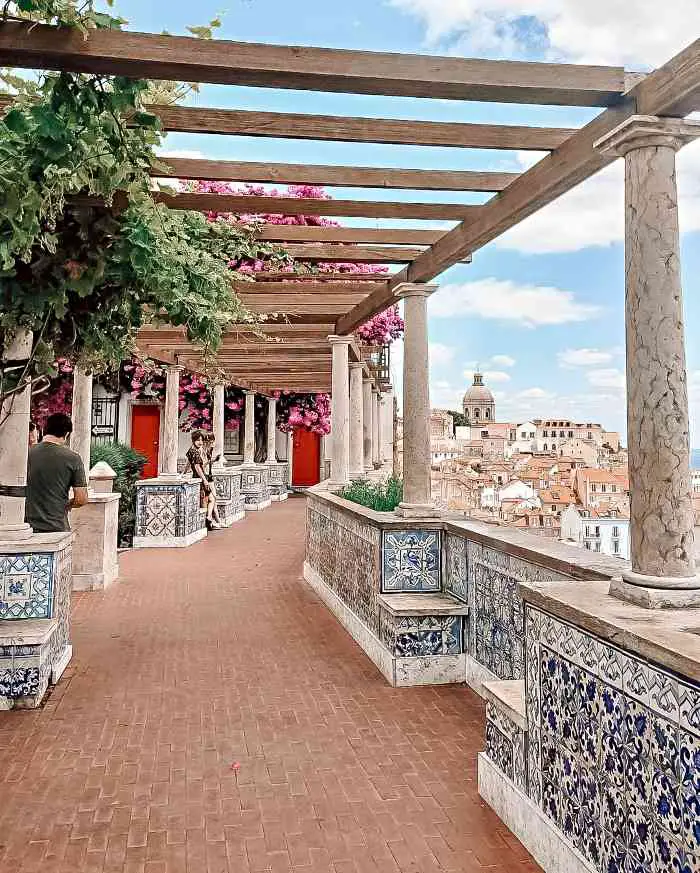 3. Try African-Portuguese Fusion Cuisine
An interesting and usual thing to do in Lisbon is to try out the city's many African restaurants!

Following the Age of Discoveries, Lisbon's immigrant population grew. Today, you can find some delicious African restaurants in Portugal's capital.

Discover Angolan cuisine at Associação where you can try authentic exotic dishes like Muamba, a spicy chicken stew influenced by Portuguese cooking. Spots like the Mozambican IBO, a Mozambican restaurant in Cais do Sodre, are the ultimate hidden gems in Lisbon thanks to their unique fusion of Portuguese and African flavors.
4. Tile Museum
Discover an exciting secret thing to do in Lisbon at one of the city's least visited museums.

Tucked away in the heart of Lisbon, the Tile Museum (Museu Nacional do Azulejo) unveils the rich heritage of Portugal's iconic ceramic tiles.

Housed in a former convent, this hidden gem showcases an impressive collection spanning centuries of craftsmanship and artistry. Admire intricate tile designs, from vibrant azulejos to intricate mosaic patterns.

Learn about the history of this unique art form through interactive exhibits and informative displays. The museum offers a fascinating journey into Lisbon's cultural tapestry, often overlooked by tourists.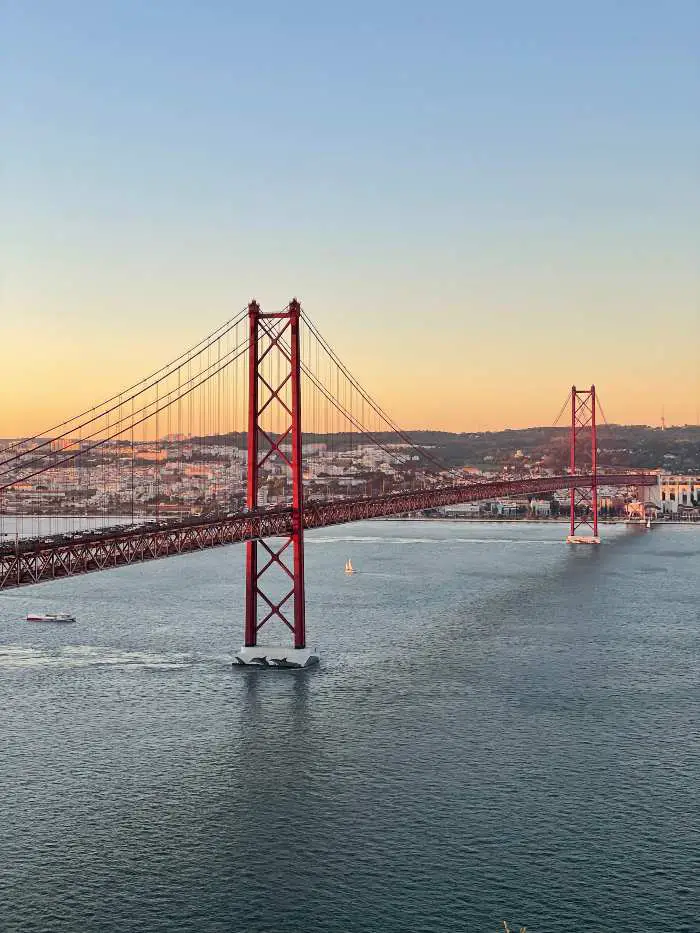 5. Tram 24
Embark on a captivating journey through Lisbon aboard Tram 24, a lesser-known alternative to the popular Tram 28.

This delightful tram tour takes you on a scenic route, weaving through charming neighborhoods like Campo de Ourique and Estrela. Unlike its crowded counterpart, Tram 24 offers a more relaxed and authentic experience, allowing you to explore lesser-known neighborhoods with an authentic feel.

Marvel at the city's architectural gems, pass by cozy cafés, and discover Lisbon secret spots while you head off the beaten path. This off-the-radar adventure is one of the coolest things to do in Lisbon if you're interested in uncovering the true essence of Lisbon's local neighborhoods.
6. Fronteira Palace
Discover the hidden gem of the Palace of the Marquesses of Fronteira, a magnificent mansion located on the outskirts of Lisbon.

This historic palace offers a glimpse into Portugal's noble past with lavish interiors, ornate ceilings, and beautifully preserved gardens. Explore the grand rooms adorned with intricate tiles and tapestries, and stroll through the manicured gardens filled with fountains and statues.

A fascinating and unusual thing to do in Lisbon, this off-the-beaten-path attraction lets you experience a world of aristocratic splendor, away from the bustling city streets.
7. Quinta dos Azulejos Garden
Embark on a serene retreat at Quinta dos Azulejos Garden to discover an unusual and cool thing to do in Lisbon.

This hidden gem in Lisbon showcases the artistry of azulejos, Portugal's famous ceramic tiles, amidst a lush garden setting. Wander through the picturesque pathways, surrounded by vibrant displays of tile work, depicting intricate patterns and scenes.

Relax on shaded benches or enjoy a picnic amidst the fragrant blooms. An unexpected delight, this cool and serene escape offers a unique opportunity to appreciate the beauty of azulejos in a peaceful and idyllic setting.
8. Street Art of Bordalo II
One of the most fun and secret things to do in Lisbon is to spend an afternoon exploring Bordalo II's street art.

This environmental activist is also a Portuguese street artist known for using trash and discarded materials in his work. These unconventional works of street art transform abandoned spaces into vibrant showcases of creativity and environmental awareness.

Marvel at giant animal murals like the colorful Iberian Lynx found near the Lisbon Aquarium. This urban treasure hunt is a unique and offbeat experience that unveils a different side of Lisbon's artistic personality.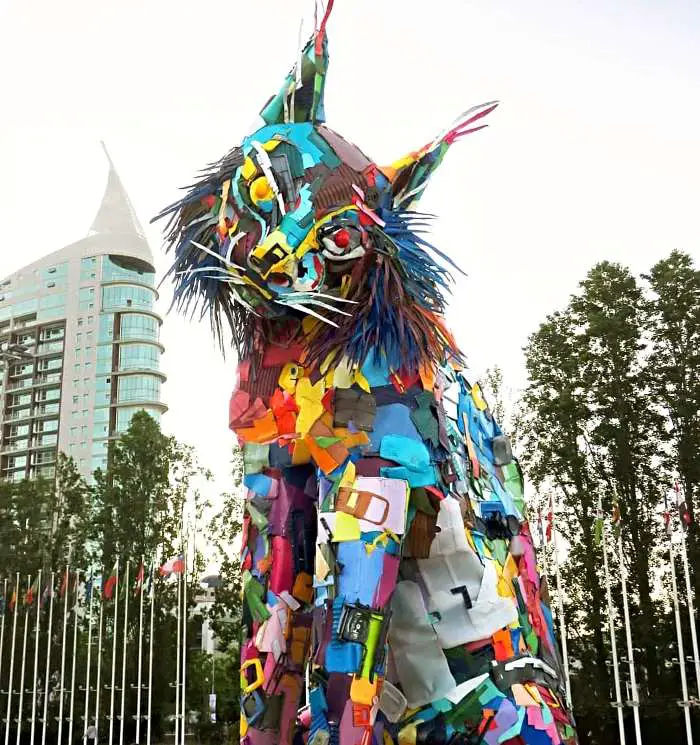 9. Monastery Sao Vicente de Fora
To discover one of Lisbon's most interesting hidden gems, head to the Monastery São Vicente de Fora, a remarkable architectural marvel located in the historic Alfama district.

This majestic monastery boasts stunning cloisters, intricate tilework, and breathtaking panoramic views of the city. Explore the ornate chapels and crypts, or admire the collection of religious art within its walls.

Visiting this Portuguese landmark is a unique thing to do in Lisbon, offering a quiet and intimate experience, away from the crowds. Immerse yourself in history and spirituality, while enjoying the tranquility of this lesser-known attraction in Lisbon.
10. Cristo Rei Statue
Embark on a pilgrimage to Cristo Rei, an awe-inspiring monument located on the southern bank of the Tagus River, just outside Lisbon.

This towering statue of Christ offers panoramic vistas of the city and the river. Climb to the observation deck for breathtaking views, visit the chapel, or simply bask in the tranquility of the surrounding gardens.

Off the beaten track in Lisbon, Cristo Rei provides a unique and lesser-known perspective of Lisbon, away from the usual tourist spots.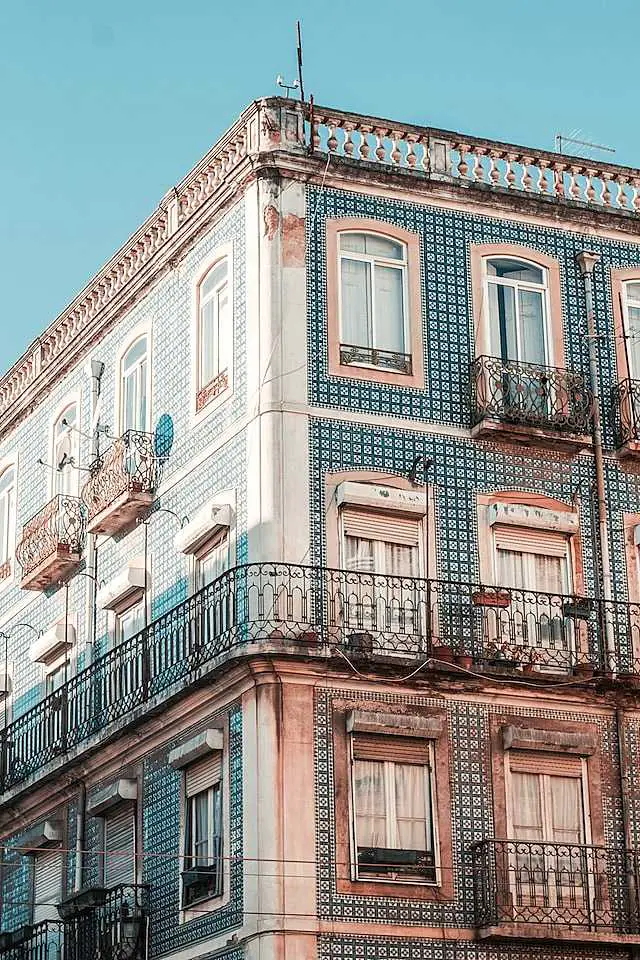 11. Underdogs Art Gallery
For a hipster thing to do in Lisbon, enjoy trendy urban exploration at Underdogs Gallery. Located in the vibrant Marvila neighborhood, this contemporary art space celebrates street art, graffiti, and urban culture.

Marvel at the ever-changing exhibitions featuring local and international artists pushing creative boundaries. Immerse yourself in the edgy atmosphere of the gallery, attend art talks, workshops, or even purchase unique pieces.

A haven for hipsters, Underdogs Gallery offers an alternative and cutting-edge experience that captures the dynamic spirit of Lisbon's urban art scene.
12. Puppet Museum
Dive into a world of whimsy and wonder at the Museu da Marioneta to experience a quirky thing to do in Lisbon.

Situated in the charming Alfama district, this museum showcases a collection of puppets from different eras and cultures. Explore the history of puppetry through fascinating exhibits and interactive displays.

Marvel at intricately crafted marionettes and hand puppets, and learn about the artistry behind their creation. An unusual delight, the Museu da Marioneta offers a unique and offbeat experience that adds a touch of fantasy to your visit to Lisbon.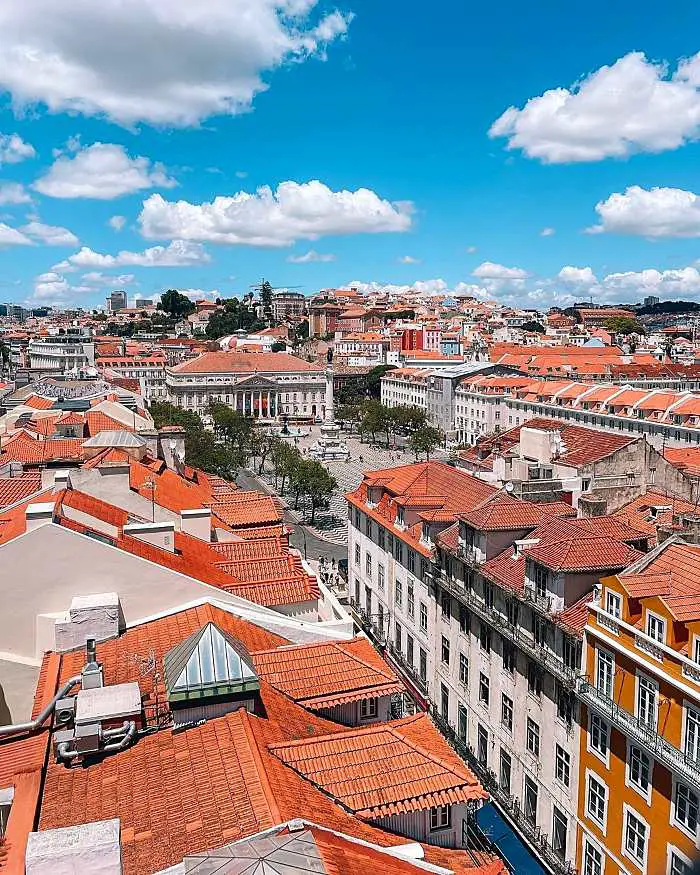 13. The Narrowest Street in Lisbon
For an alternative thing to do in Lisbon, take a walk down Rua da Bica de Duarte Belo, the narrowest street in Lisbon.

Located in the bohemian Bairro Alto neighborhood, this winding alleyway is a charming piece of the city's history. Stroll along its narrow path, lined by colorful facades and picturesque balconies. Take in the lively atmosphere as locals go about their daily routines.

An unusual experience in Lisbon, exploring this narrow street offers a glimpse into its authentic and intimate side, away from the usual tourist hotspots.
14. Praia da Rainha
Discover the Lisbon hidden gem of Praia da Rainha, one of the best beaches in Cascais, Portugal! This charming beach is tucked away in the picturesque seaside town just 30 minutes from Lisbon.

This tranquil paradise offers golden sands and sparkling waters, perfect for a relaxing day by the sea. Take a refreshing swim, soak up the sun, or simply unwind amidst the peaceful surroundings.

Praia da Rainha is a non-touristy thing to do in Lisbon off the beaten path, allowing you to escape the crowds and enjoy a serene beach experience away from the bustling city.
15. National Coach Museum
Step into the regal world of the Museu Nacional dos Coches, located in the beautiful Belém district to enjoy a quirky thing to do in Lisbon.

This unique museum houses a remarkable collection of royal carriages from the last three centuries. You can marvel at the intricate craftsmanship and opulent designs as you explore the various galleries.

Learn about the fascinating history behind these extravagant vehicles and their role in royal ceremonies. A fun and offbeat Lisbon attraction, visiting the Museu Nacional dos Coches offers a glimpse into the glamorous past of Portuguese royalty.
16. Berlengas Islands Boat Trip
Take an unforgettable boat trip to the Berlengas Islands, a hidden gem located off the coast of Lisbon.

This stunning archipelago consists of pristine beaches, dramatic cliffs, and crystal-clear waters teeming with marine life.

Explore the main island and its charming village, hike along scenic trails, or take a refreshing dip in the inviting sea. With limited access, the Berlengas Islands remain relatively untouched, making it a true secret spot in Lisbon and a serene escape from the bustling city.
>> Speaking of islands, be sure to check out this compilation of
the best islands to visit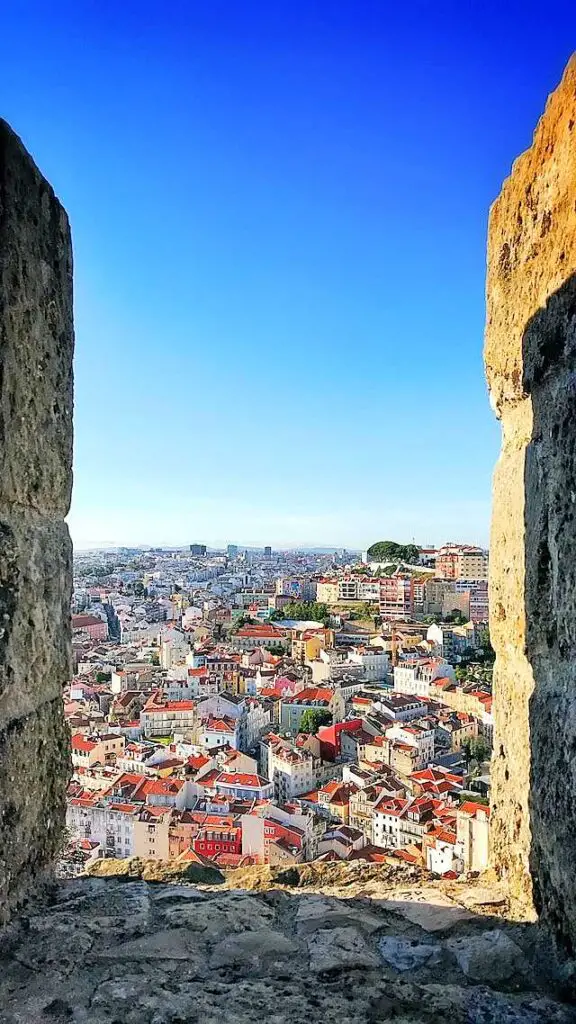 17. Sesimbra Day Trip
Embark on an off-the-beaten-track Lisbon adventure with a day trip to Sesimbra.

Nestled on the stunning coastline south of Lisbon, this charming fishing town offers a delightful escape from the city's hustle and bustle. Explore the picturesque streets, visit the historic castle, and soak up the sun on Sesimbra's golden beaches.

Indulge in fresh seafood at local restaurants, or embark on a boat tour to discover hidden coves and caves. Sesimbra provides an authentic and serene coastal experience, away from the usual tourist crowds in Lisbon.
18. Try Goan Cuisine
Did you know that Portugal has a long historical connection with Goa, India? Portuguese explorers established a trading presence here in the 16th century, which led to centuries of colonization and cultural exchange.

The culinary fusion of Goan and Portuguese cuisine is most evident in a dish called vindalho, which combines the traditional Portuguese "vinha d'alhos" (marinated pork with wine and garlic) with Goan adaptations such as the use of vinegar due to an absence of wine, plus additional spices like cinnamon and clove.

Try it for yourself at a spot like Jesus é Goês near the famous Avenida da Liberdade.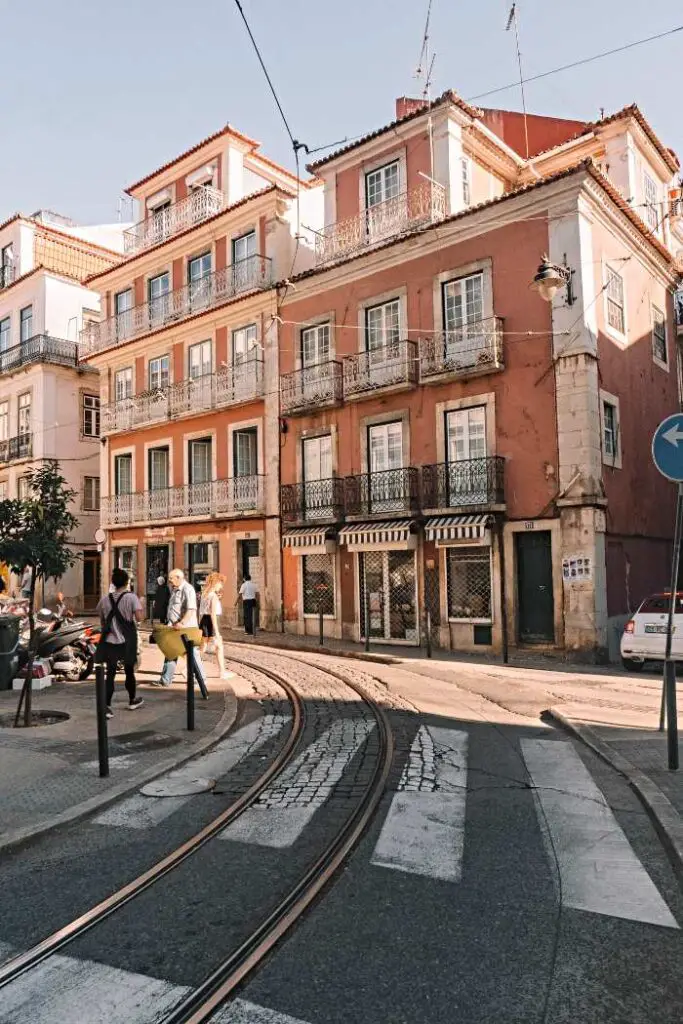 19. Carmo Convent
Embark on a captivating journey through history with a guided tour of the mysterious Convento do Carmo in Lisbon.

This intriguing site, located in the Chiado neighborhood, is a hauntingly beautiful ruined convent that dates back to the 14th century. Explore the atmospheric ruins and admire the Gothic architecture that survived the devastating earthquake of 1755.

Learn about the fascinating stories and legends surrounding this enigmatic place. Uncovering the secrets of Convento do Carmo is one of the coolest things to do in Lisbon, where you can get a perspective on the city's interesting past.
20. LX Factory
Looking for a hipster thing to do in Lisbon? Head straight to LX Factory, a creative and cultural hub with shops, restaurants, and a hostel.

Located in the Alcântara neighborhood, this former industrial complex has been transformed into a trendy hotspot. Explore the quirky shops like the famous Ler Devegar book shop with floor-to-ceiling shelves and kinetic art hanging from the ceiling.

You can also browse the art galleries and design studios housed within the former warehouses. LX Factory is a must-visit for those seeking an alternative and cutting-edge experience in Lisbon.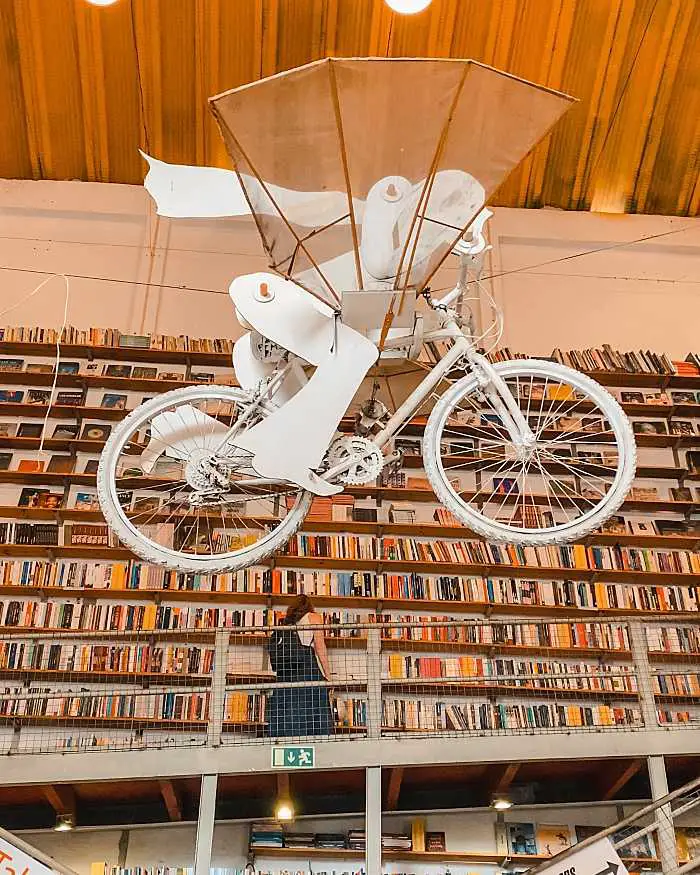 Author Bio:

Sydney is the creator of Sydney to Anywhere a solo travel blog focused on Portugal, Spain, Morocco, and more!