The Best Vietnam Souvenirs: 25 Things To Buy + 1 Thing To AVOID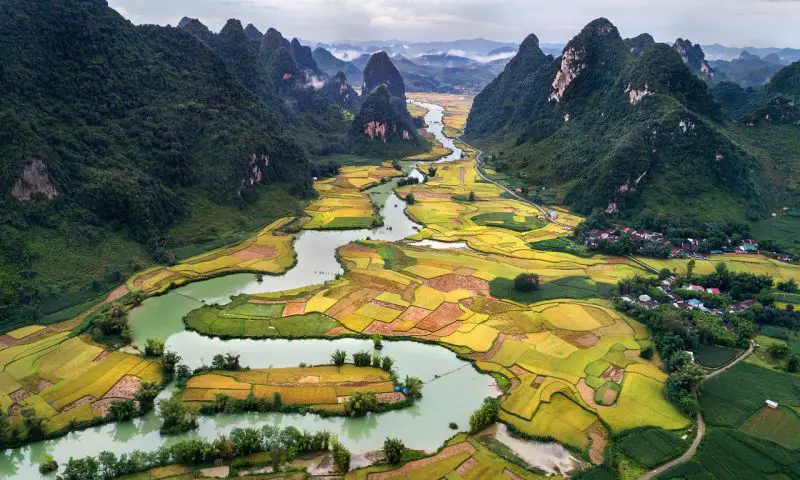 Vietnam is jam-packed with local markets, chaotic streets, entertaining vendors, souvenir stalls, and designer galleries that are almost guaranteed to leave you with a lighter wallet and heavier luggage on your return home. Read on to discover the 25 best items that make for perfect Vietnam souvenirs. (And one thing to avoid!)
Boasting a rich culture, interesting history, beautiful landscapes, and a wealth of inspiration, a trip to Vietnam is sure to leave lasting memories.
Take a piece of the experience home with these popular + traditional gifts and souvenirs.
This guide will enlighten you into the best souvenirs available for purchase, where in Vietnam to buy them, and what to expect to pay.
Get your wallets out and let's get into it guys 🙂
What's the one thing you should absolutely stay away from in Vietnam? Continue reading to the end to find out…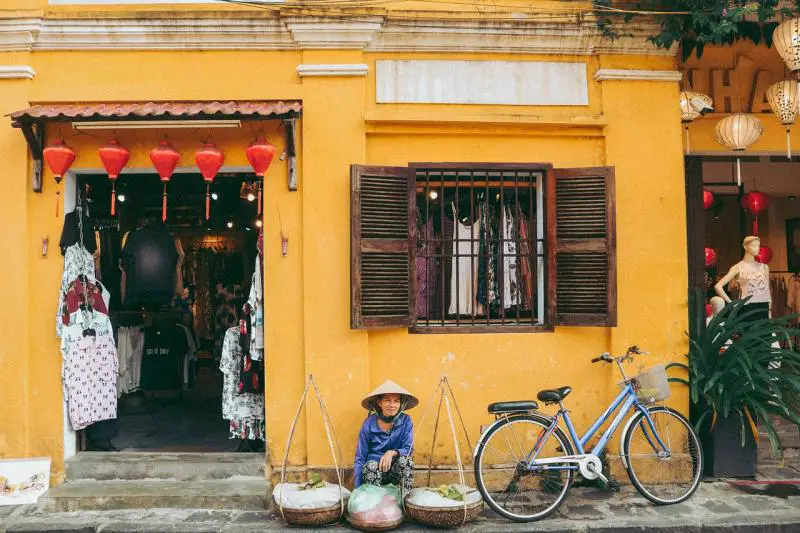 Things to remember when shopping in Vietnam
First-time travellers to Vietnam may find it difficult to know what to expect when doing souvenir or general shopping in Vietnam.
Here are some tips:
You should expect to bargain for the items you'd like to buy as souvenirs. If you're not use to it, this may seem strange at first. However, bartering is the norm in local markets and many other places across Vietnam.
A general rule of thumb is to pay around 40-50% of the initial quoted price.
If you're looking to buy more than one item, always ask for a deal or combined discount and the total price will be reduced.
You get what you pay for. Lower quality souvenirs are available at a low price, but may not last as long.
It is advisable to browse the fixed-price shops outside of the markets and then using this as a base, negotiate with the shops once inside.
Don't buy souvenirs from the first place you see. Get a feel for the offerings and prices from the neighbourhood first.
If you're looking to purchase high-ticket items a little research into quality and reputation goes a long way.
One last thing to note…
Having said this, don't overpay for souvenirs, gifts, and other items in Vietnam… However, don't get too caught up looking around or bartering to save a few cents.
By making a purchase you're contributing to a family in Vietnam, while getting a wonderful memento that'll bring you much joy at the same time.
Use that time to enjoy your vacation in Vietnam instead.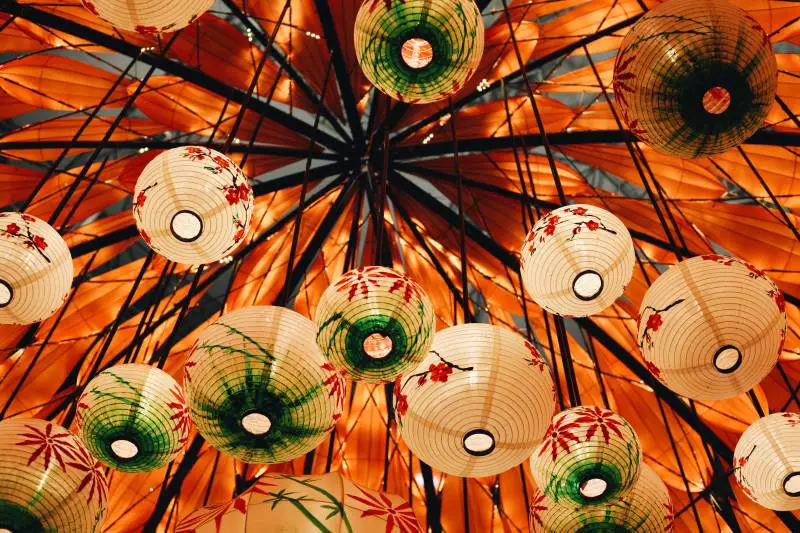 VIETNAM SOUVENIRS
Ok, now let's get into the best things to buy in Vietnam.
1| Conical Hat (Nón Lá)
Known locally as nón lá, the classic conical hat is the most recognisable symbol of the country going back 3,000 years.. These hats certainly make for novel souvenirs from Vietnam.
Rich with cultural sentiment and historical significance, the conical hat is practical too. Handwoven using bamboo or palm leaf, nón lá is durable and light – designed to protect one from the sun and the rain.
The conical hat is also used as a fashion item accompanying traditional costumes in Vietnam. In addition, it is often used as an accessory when going to festivals or pagodas.
Add nón lá to your list of things to buy in Vietnam.
Best travel tip: When looking at the hats, choose one with a chin strip so that it won't slide down or easily get blown away.
Where to buy a conical hat?
It is easily accessible for purchase, particularly at any of the traditional markets or souvenir shops.
Ho Chi Minh City:
Hanoi:
Old Quarter
Dong Xuan Market in Dong Xuan
How much does a conical hat cost in Vietnam:
Depending on the quality, these hats cost between VND 30,000  and VND 110,000 at the souvenir shops while you can pick one up at the local market for only VND 10,000.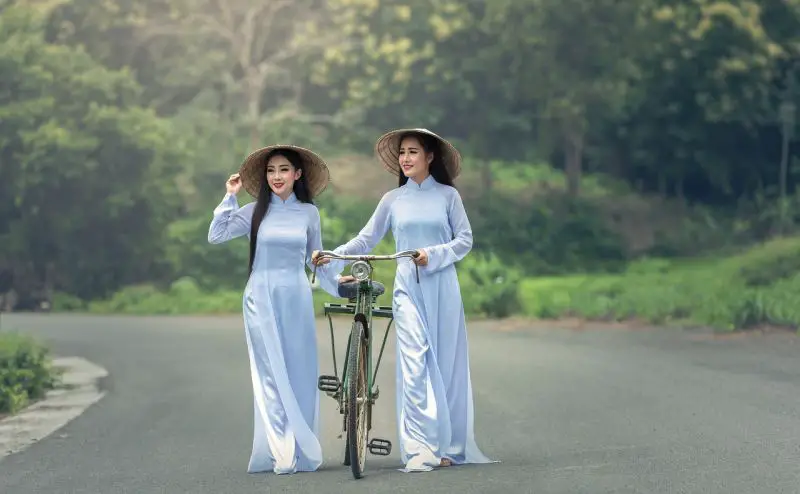 2| Áo Dài Vietnamese Traditional Dress
The national garment of this SE Asian country, Áo Dài are wonderful Vietnam souvenirs.
This traditional, tight fitting long dress, used by both men and women especially on special occasions, can be found all over Vietnam. The garment comprises long sleeves, a stand collar, and side seam slits up to the waist worn over pants.
Said to have been inspired by the royal Chinese Qing Dynasty, each Áo Dài comes in two main colours. The long dress in one colour and the pants underneath in a contrasting colour.
If you're really into it, why not buy fabric and get a tailor to make an Áo Dài specially for you or a loved one.
Where to buy Ao Dai in Vietnam?
Áo Dài can be easily found in tailor shops in Vietnam.
Hang Da Market is a good place to shop for ready-made Áo Dài.
Alternatively, if you're feeling fancy you could purchase the material first and then take it to a local tailor and get it custom made.
The best place to purchase material in Hanoi include Cho Hom market and Hang Gai street.
In Ho Chi Minh City, make your fabric purchase at Ben Thanh market, An Dong market, or Tan Dinh market.
Price: It can take up to a week to finish an Áo Dài at a cost between VND 700,000 to VND 1,400,000. It is worth paying extra for better quality fabric and an experienced tailor.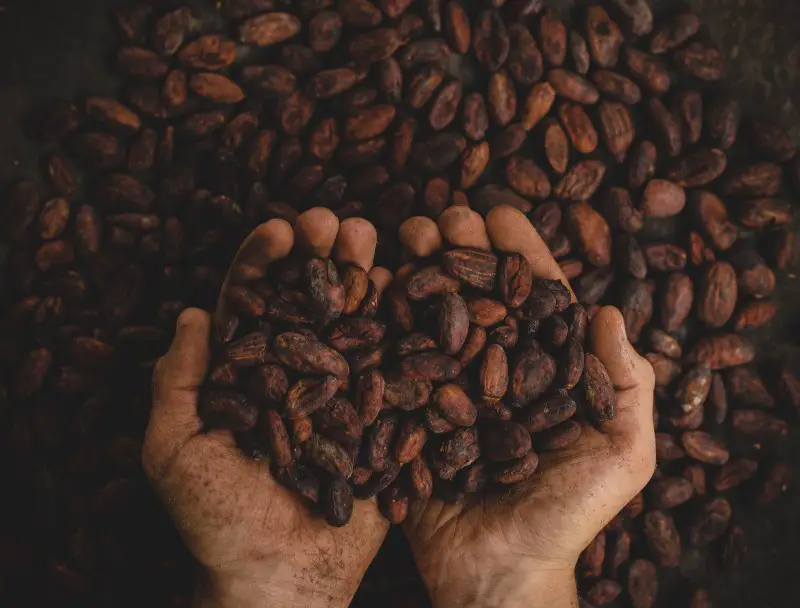 3| Vietnamese Coffee
Probably one of the best things to buy in Vietnam, providing a taste of your journey long after you've returned home.
Vietnamese coffee is famous for its flavour and preparation and can be found almost everywhere, from coffee shops and local markets to shopping malls and also at the airport.
Vietnamese coffee packs make for a great gift from Vietnam for family and friends back home.
The Vietnamese brew their coffee in tin coffee filters that drip into the glass below. Condensed milk is then added.
While in Vietnam don't miss out on trying cà phê sữa đá (iced coffee with condensed milk) – a firm favorite of the locals.
The best coffee bean options are Robusta, and Arabica. Coffee from the Central Highland stands out due to its high quality.
In addition to the beans, purchase a traditional metal drip filter "phin" that is integral part of the coffee making process. This would help in replicating Vietnamese coffee on your return.
Where to find the best coffee beans and ground coffee in Vietnam:
The best option would be to sample the different types of coffee at cafes and then decide which is your favorite.
Hanoi is considered to be the epicentre of Vietnam's coffee culture. It is also possible to buy great coffee in Ho Chi Minh City, Da Lat, and the central highlands of Tay Nguyen.
A couple of the most popular local coffee brands in Vietnam:
Trung Nguyên Coffee
Highland coffee
Vinacafe
How much does coffee cost in Vietnam:
The price ranges from VND 90,000 to 250,000 for a kilogram depending on the brand and quality grade.
The phin filters are easy to find at the supermarkets. Aluminium filters cost as little as VND 40,000 while ceramic filters are VND 120,000.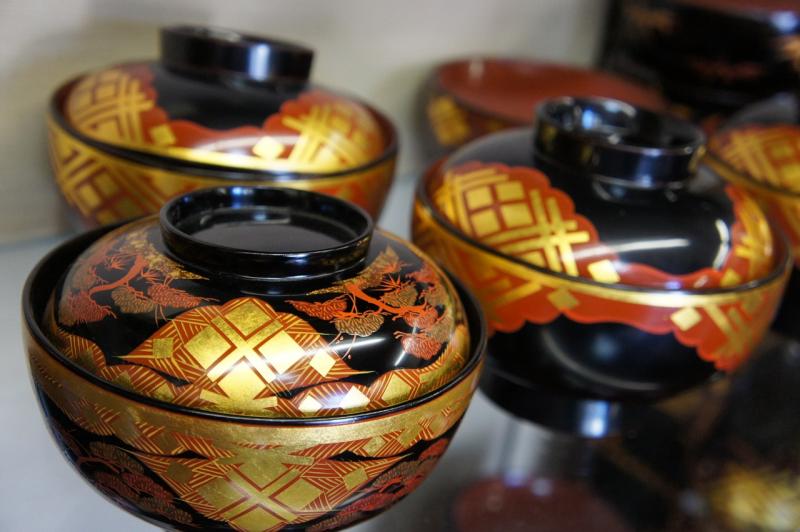 4| Lacquerware
Originating in the 1930s from the Hanoi college of Fine Art, lacquerware is one of the best mementos from Vietnam. Many in the country pride themselves on their lacquerware skills producing beautiful pieces not limited to paintings, furniture, vases, bowls, and jewellery boxes. These products are strong and weather resistant.
This intricate, time-consuming process comprises many stages of sealing engravings, gold leaf designs, and mother-of-pearl inlays under multiple layers of tree sap resin.
Lacquerware products, found only in Vietnam, are a one-of-a-kind gift or souvenir for the art and design lover.
Where to buy lacquerware in Vietnam?
Available almost everywhere, lacquerware is not a problem to find. A handful of galleries dedicated exclusively to showing lacquerware where you are able to browse through the collections and purchase a souvenir at the same time.
Vietnam Fine Arts museum
Thu Huong Lacquer art
Lacquer Art Tay Ho
An Dong Craft Market
Hang Bac Street in Hanoi
How much does Vietnamese lacquerware cost?
The price depends on the size of the object and the length of the process that the item has undergone. It usually starts around VND 50,000 for smaller items, and can go up to VND 2,000,000 for lacquerware paintings and furniture.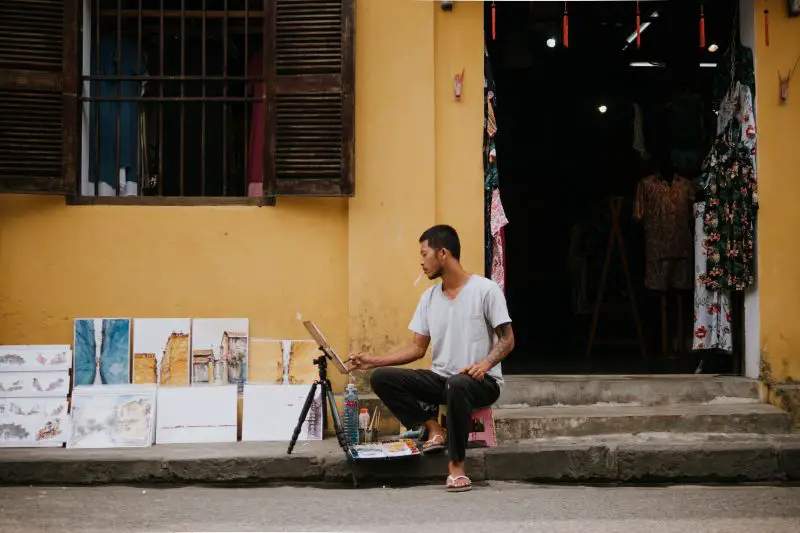 5| Vietnamese Paintings
One of my favourite things to buy, paintings make for a wonderful Vietnam souvenir or gift.
As you walk around, notice the infinite number of artists creating work of arts filled with bold colours and textures.
How to find the best paintings in Vietnam:
The best way is to keep an eye open as you wander around the country, its cities and towns. You will find many talented locals painting outside their shops and homes.
I noticed many small stores in Hanoi and Hoi An housing some beautiful pieces.
The streets of Hoi An are filled with art. Alternatively, you can browse in local boutique stores in the Old Quarter. The Nguyen Art Gallery is known for having eye-catching original pieces of hand craft, pottery, and artworks.
How much can you expect to pay for a Vietnamese painting:
It's hardly possible to give a price point as this varies drastically between each piece. This is dependent on the size, the amount of detail and time that goes into each painting.
Price range: VND 200,000 – 1,500,000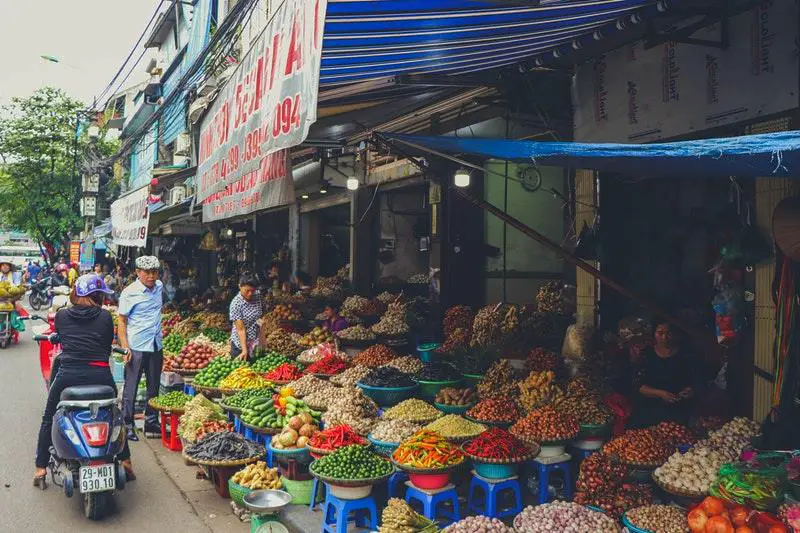 6| Vietnam Food souvenirs
Be sure not to miss out on some of these tasty food treats:
Coconut candy
Originating in the Ben Tre province in the Mekong Delta, coconut candy is a must-buy when in Vietnam.
These sweet treats are made with coconut or coconut flavourings, malt syrup, and sugar and then wrapped in an edible rice paper. Sold individually, they are sold in a wide range of flavours including the original, durian.
Expect to pay between VND 40,000 – 80,000 for a bag of sweets.
Kẹo chuối – banana candy
Handmade in small villages in the Mekong delta, banana candy is made by boiling banana until it is reduced to a black liquorice-like substance.
You can find these yummy treats at the Ben Thanh market or the less touristy and cheaper option at Cholon old Chinatown.
O Mai – salted dried fruit
A traditional specialty particularly in Hanoi, o mai is dried fruits mixed with sugar, salt, lime, and spices to obtain a tasty snack. Fruit used include peach, plum, star fruit, and pineapple. Traditionally used for medicinal purposes in the past, ô mai makes for a great gift from Vietnam nowadays. It is easy to carry and long-lasting.
Where to find:
In local stores or markets in the main cities.
Hanoi
Hang Duong Street
O Mai Hong Lam
O Mai Tien Thinh
Ho Chi Minh City
Ham Nghi road
O Mai Hong Lam
Expect to pay around VND 200,000 for 500 grams of dried fruit.
Maybe you're feeling adventurous and keen to try vot vin lon and these 35 weird + exotic foods?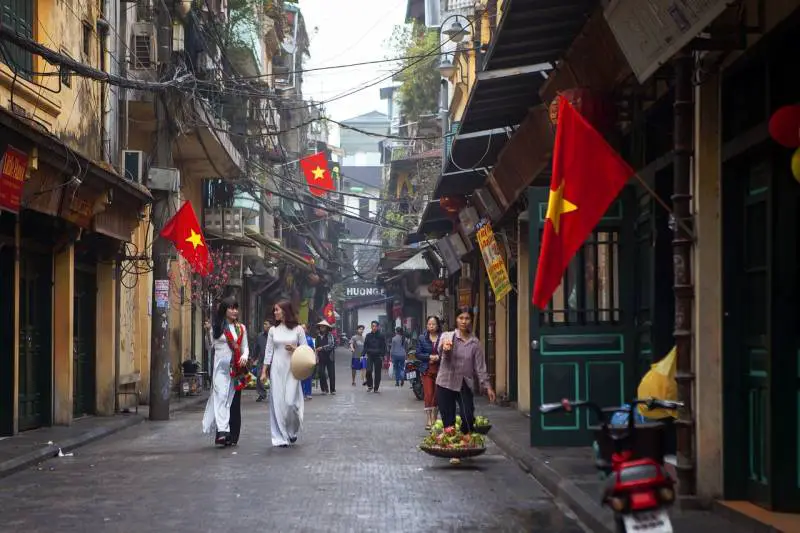 7| Propaganda Posters
Propaganda and slogans were used during the Vietnam War to encourage the local population and to rally troops. These war memorabilia are now available for purchase. Comprising graphic representations of the country's ideology and patriotic past, they make for an interesting and unique souvenir from your time in Vietnam.
Propaganda posters are the most popular, but photographs, uniforms, medals, flags, and books are also available.
You can easily find reproductions of propaganda posters in several art galleries. Usually stacked in piles, the posters can take some time to go through. They come in both canvas and rice paper, although I prefer the latter as it feels more authentic.
Reminiscent of the war and appealing to the history enthusiast, you can also often find originals that cost more than the common prints sold in many souvenir shops. They also make for a fun gift and are easy to carry back home.
Where to buy propaganda posters and war memorabilia?
Ho Chi Minh City:
Dan Sinh Market
Số 104, Yersin, Phường Nguyễn Thái Bình, Quận 1
Le Duan Street
Hanoi old quarter:
Old Propaganda Posters Shop
1 Nhà Chung, Hàng Trống, Hoàn Kiếm
Hanoi Gallery Old Propaganda Posters
98 Phố Mã Mây, Hàng Buồm, Hoàn Kiếm
How much do these propaganda posters cost in Vietnam:
Prices vary greatly depending on whether it's a replica or an original. Replicas are usually in the range of VND 200,000 dependent on the size.
Buying Tip: If buying posters and paintings, you can easily find a piece of plastic pipe that makes for the perfect storage for rolled posters. These can be found at many of the local shops costing just a few cents.
8| Dó paper products
Made from the bark of the Rhamnoneuron Balansae Dó tree, a wild plant commonly found around local riverbanks, this handmade paper is another awesome souvenir.
The process of making the paper is complex, taking up to three months to complete, but it truly captures the creativity and imagination of Vietnam.
The end result is a soft, light and durable paper used to make paintings, notebooks, and greeting cards.
Why not pick up a handful of do paper postcards as souvenirs in Vietnam and send to friends back home.
Where to buy Do Paper?
You will be able to find these at most book shops in the main cities. Here are a few specifics…
Ho Chi Minh City:
Nhà Sách Tấn Phát stationery store. A1/16, Hưng Long – Quy Đức
Ngan Thong Craft Supply. 64 Lê Lợi, Bến Nghé, Quận 1
Hanoi:
Old Quarter
Zó Project. Adjacent to the rail track and find house no 27, 10A Điện Biên Phủ.
How much do Do Paper products cost in Vietnam:
The prices vary depending on the print, starting at around VND 35,000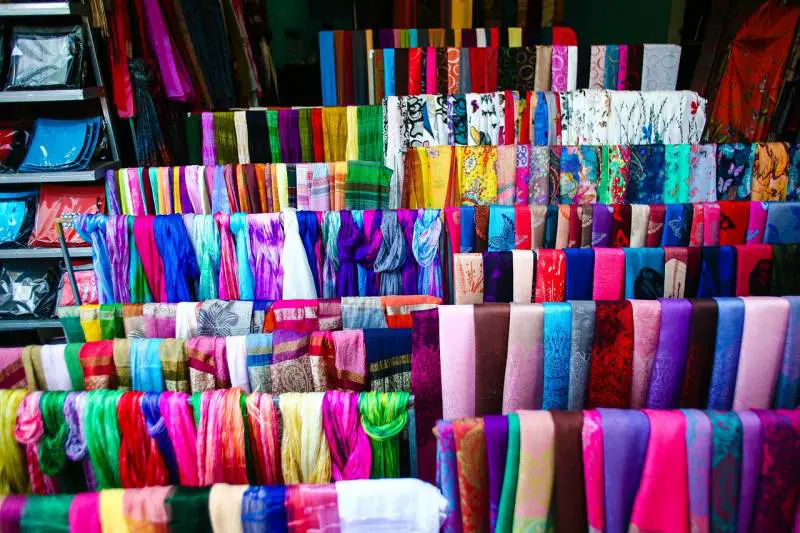 9| Silk Souvenirs
Made from the cocoons of silkworms, silk is plentiful throughout Vietnam and comes in a variety of beautiful products. Things like clothing, home-ware, accessories can be found throughout and these items are popular gifts from Vietnam.
No longer exclusive to royalty and the rich, silk is used daily by the locals. Made in traditional hand-looms the high quality silk items come in beautiful designs and colours and is renowned for its lightness and durability.
The best places for authentic silk products are:
Hang Gai street
Hoi An Silk Village
Van Phuc Silk Village
Prices start at around VND 70,000 per meter. Silk below that price is originating from China and of questionable quality. Premium quality silk goes for around VND 200,000 per metre.
10| T-shirts
There are few things as plentiful as printed T-shirts in Vietnam. They serves as fun and inexpensive Vietnam souvenirs.
Available in a wide variety of colours, designs, print and slogans, you might have a difficult time choosing.
Why not pack a little less from home and pick up a couple t-shirts in Vietnam as clothes, gifts, and souvenirs.
For some reason, fruit-printed Hawaiian shirts are all the rage in Vietnam. If you're into that sort of thing, Vietnam is your place. You can also get matching dresses, shorts, and other clothing items.
Where to buy T-shirts in Vietnam:
Once again, the local markets and night markets are filled to the brim with these. Browse through and scope out a list of favourites and prices.
How much do T-shirts across Vietnam cost:
Prices start at VND 100,000 for unbranded items and VND 200,000 for fake branded shirts.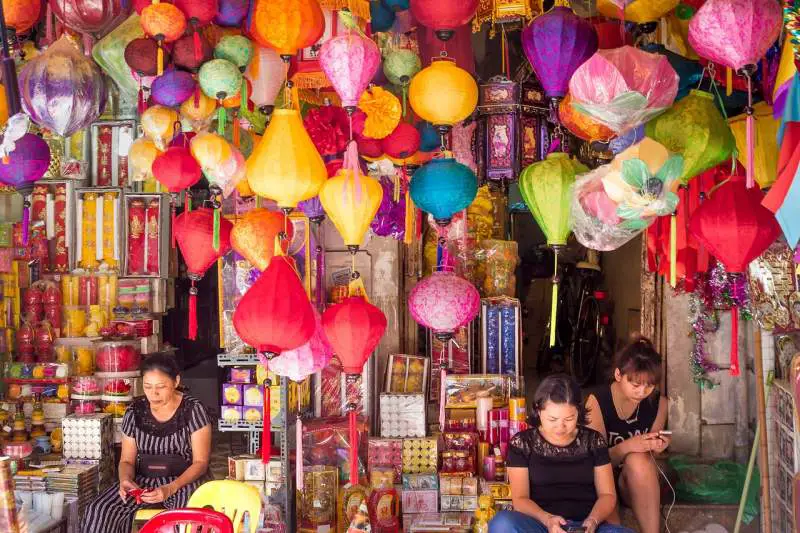 11| Lanterns
Recreate the street ambiance of your time in Vietnam by bringing some colourful lanterns back home with you.
These lanterns illuminating the streets of Vietnam are a symbol of happiness and good luck. They will transform your own space with their silk patterns and colourful hand painted design.
Travel tip: Look out for the lanterns that can easily be folded to make packing and carrying that much easier.
Where to purchase good quality lanterns in Vietnam:
Hoi An is absolutely the best place to buy lanterns. Walk around the streets of the Old Quarter and you're almost guaranteed to come across the perfect Vietnamese souvenir.
How much do lanterns cost from Vietnam:
The price varies depending on the style and quality. VND 50,000- 400,000.
12| Puppets & Masks
Used in festivals and theatre shows throughout the year, puppets and masks are fun Vietnam mementos.
Made from palm leaves and bamboo, these colourful creations vary in design between each village and are perfect addition to a bare wall or as a gift.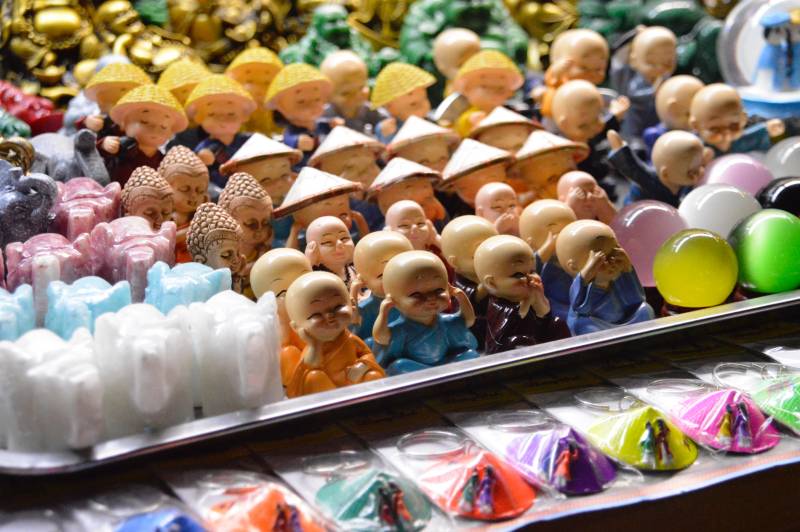 13| Vietnamese Musical Instruments
Music plays a significant role in the culture of Vietnam and handcrafted musical instruments are often purchased as practical gifts for the music enthusiast.
Keep an eye out for bamboo flutes, mini t'rungs and mini xylophones
The sweet sounds are sure to remind you of your time here and make for a dope Vietnam souvenir.
Travel tip: Make sure that wood items are allowed into your home country and that the wood has been treated before purchasing.
Where to buy traditional musical instruments in Vietnam:
There are many shops and workshops for selling instruments. Seek them out at musical instrument stores in and around the tourist areas.
The following streets are your best bet:
Ho Chi Minh City:
Nguyễn Du
Cách Mạng Tháng 8
Nguyen Thien Thuat street
Hanoi:
Hang Non
Hang Manh street
How much to expect to pay:
This depends on the quality and on the type of instrument.
Bamboo flute: VND 10,000 – VND 100,000
T'rungs: VND 200,000 – VND 1,000,000
Violin: VND 500,000 to VND 1,500,000
14| Guoc Moc Wooden clogs
Traditional footwear for both men and women, guoc moc is commonly worn with ao dai to complete the ensemble. Outside of this it is considered old fashioned and not worn frequently, but you can still find some if you would like to own one as a souvenir.
Where to buy Guoc Moc in Vietnam?
These are found in many traditional stores throughout Vietnam.
In Hanoi:
Dong Xuan market
The Old Quarter
How much does Guoc Moc cost in Vietnam:
Expect to pay between VND 10,000 to VND 30,000 for a pair of wooden clogs.
Looking for more Vietnam Memorabilia?
Keep scrolling: I've got loads more ↓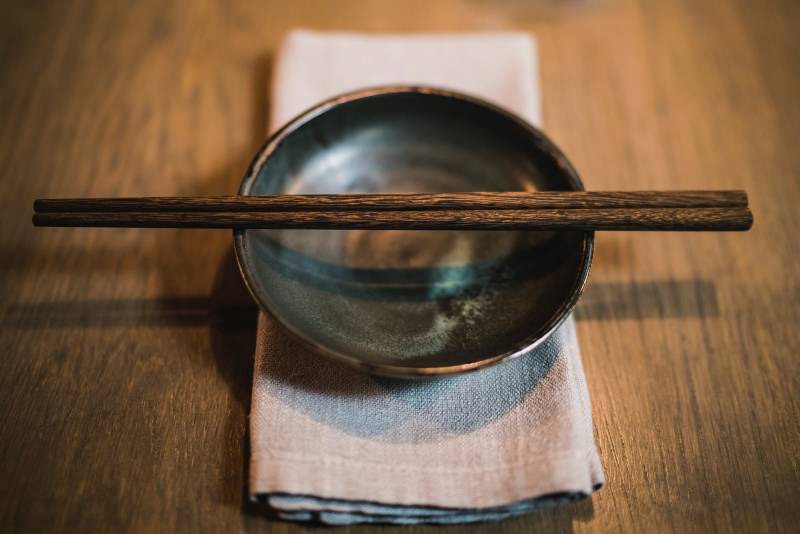 15| Chopsticks
What better way to remind you of all the yummy food eaten than a set of chopsticks as best souvenirs from Vietnam.
How much to expect to pay for?
Spend a little more and buy something of good quality. Despite this, it will still be dirt-cheap and of the most affordable things you will buy in Vietnam starting at just VND 20,000 per pair.
16| 3D Greeting Cards
Intricate cards with beautiful designs that pop up once opened, these 3D cards can be found from many street vendors.
Bonus: the cards are flat and don't take up much space at all.
Choose a card that serves for a special occasion and as cool memories from Vietnam.
How much to expect to pay:
VND 10,000 – 30,000.

17| Vietnam Tea Souvenirs
If you're looking for a simple souvenir that tastes great, is easy to find and easy to carry, Vietnamese tea is your best bet.
Vietnam has a long history with tea and is currently the 5th largest tea producer in the world. This traditional drink comes in a wide variety, with the most popular being scented lotus. This is followed closely by green tea and black tea.
Where to buy tea in Vietnam?
Vietnamese tea can be purchased in any local market or supermarket.
The average price of tea in Vietnam is around VND 100,000 per kilogram.
18| Bamboo products
Bamboo-made items make for some of the most popular Vietnam souvenirs. An added bonus is that it is an eco-friendly, sustainable product.
You will find a variety of handcrafted products like kitchenware, bowls, baskets, and hats at prices suitable for every budget.
Another cool bamboo item that would make for a fun gift is the dragonfly. Unique to Vietnam, the bamboo dragonfly can stand on its mouth on just about any surface.
Where to find bamboo products:
Markets and souvenir shops in Hanoi and Ho Chi Minh City not limited to:
Cửa Hàng Bamboo Village
108, Phố Xuân Diệu, Hà Nội
Mekong Creations
68 Lê Lợi, Phường Bến Thành, Quận 1, Hồ Chí Minh
How much do bamboo products in Vietnam cost:
Again, the price of these products vary depending on the size and intricacies involved.
19| Jewellery
The country is a great place to find affordable jewellery that make for some of the best Vietnam souvenirs.
You will come across earrings, bracelets, rings, and other creative items from as little as 40k VND. These items will serve as a constant reminder of your travels in Vietnam.
Where to find the best jewellery souvenirs:
Markets, souvenir stores and street vendors are the way to go.
20| Vietnam Ceramics and Pottery
The ceramics you find in Vietnam are handcrafted using traditional methods and the intricate detailing is noteworthy. You will find a wide variety of ceramics in all shapes, colours, and sizes.
Incorporating influences from China, India and Cambodia, ceramics are very much still a part of everyday life of Vietnamese people and can be found everywhere. They make for a long-lasting Vietnamese souvenir and gift.
Where to find ceramic and pottery products in Vietnam?
Bat Trang pottery village
Phu Land pottery village
Many pottery and handcraft shops in the main cities.
How much do ceramic products cost in Vietnam:
Prices start at VND 20,000.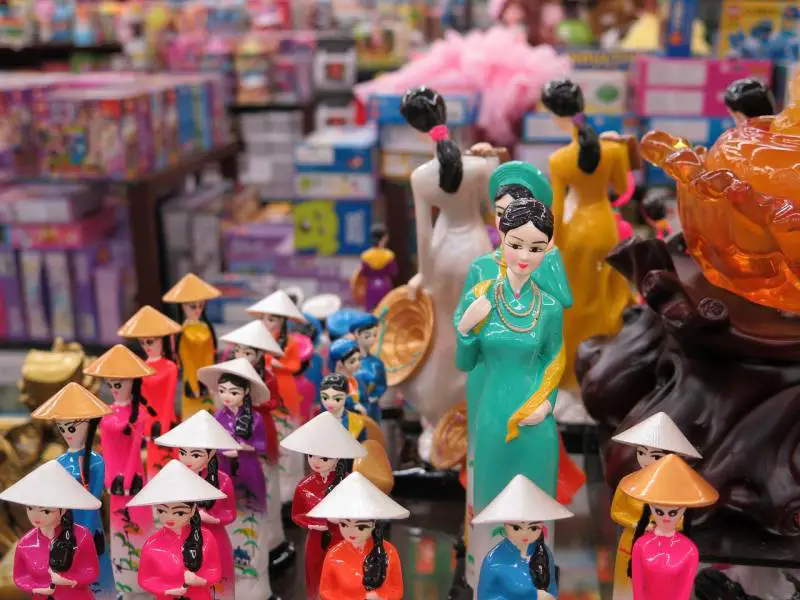 21| Hand fan
Not just a way to keep cool, but also as an elegant fashion statement, hand fans are another pretty Vietnam souvenir. Made from bamboo, paper, or silk hand fans make for authentic gifts too.
Where to buy hand fans in Vietnam:
Thach That village
Old Quarters in Hanoi
Price: This is largely dependent on size and design, the price of a fan ranges from VND 70,000 for a hand fan to VND2,500,000  for a wall-hanging fan.
23| Reusable bags made from rice bags
You might not think these make for a great purchase, but once you see these re-purposed rice bags I'm almost certain you'd reconsider.
They are stylish, sustainable, unique and a cool souvenir from Vietnam that you'd use over and over again back home.
Make sure to purchase additional bags for friends and family. They will love it too.
24| Hand Embroidery
I'm willing to bet you know someone that would love to receive some embroidery. Vietnam is your go-to place for all things embroidery that make for pretty Vietnam souvenirs.
The art of hand-embroidery is an ancient handicraft tradition in Vietnam for over 700 years. The items are made of natural materials requiring a lot of skill, time, and effort. Choose from pillowcases, bed sheets, clothing, tablecloths, scarves, and the list goes on.
Where to buy hand embroidery in Vietnam:
Depending on your requirements and budget, embroidery is available in many markets and stalls across Vietnam including at the ethnic markets of Sapa and Ha Giang province. There is usually a big difference in quality between the items made in a factory and those that are handmade.
XQ Hand Embroidery in Nha Trang offers good quality embroidery.
Cost: Prices start at VND 100,000 for simple creations.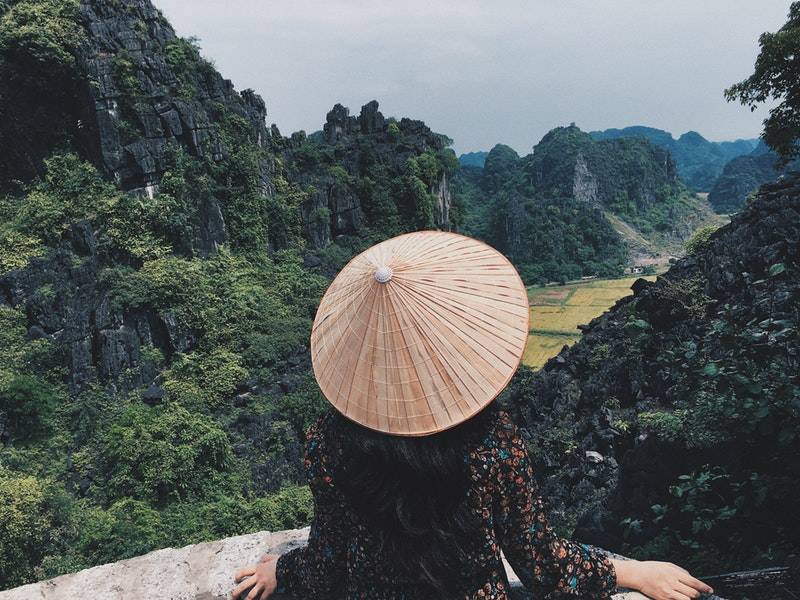 25| Vietnamese Tribal Products
With over 50 different ethnic groups in Vietnam, each with their own culture and style, the products produced are just as varied and eye-catching.
The best of these finds are in the mountainous regions of Vietnam such as Sapa, Moc Chau, and Mai Chau amongst others.
If you're looking for unique products that are handmade at a good price that make for awesome Asian souvenirs, tribal products are your best bet. A purchase also helps to keep this tribal way of life alive.
Where to buy: Tribal products are easily found in the mountainous regions and across some major cities.
The price is dependent on the product, but it is generally available at good prices. The items in the mountainous area will be cheaper than those of the cities.
Let's end with what to avoid… and why.
Please stay away from purchasing:
Snake wine/liquor
Sure, you want to bring home a unique souvenir from Vietnam, but not at the cost of another life.
Snake wine is produced by infusing whole snakes in a bottle of rice wine. Other animals include dead scorpion, sea horse, or lizard.
Locals believe that by drinking this concoction, one's virility and health will significantly improve, although these claims are yet to be verified by the medical profession.
This is animal cruelty.
In addition, it is illegal to bring snake wine into many countries.
So save yourself the hassle, save a life and avoid.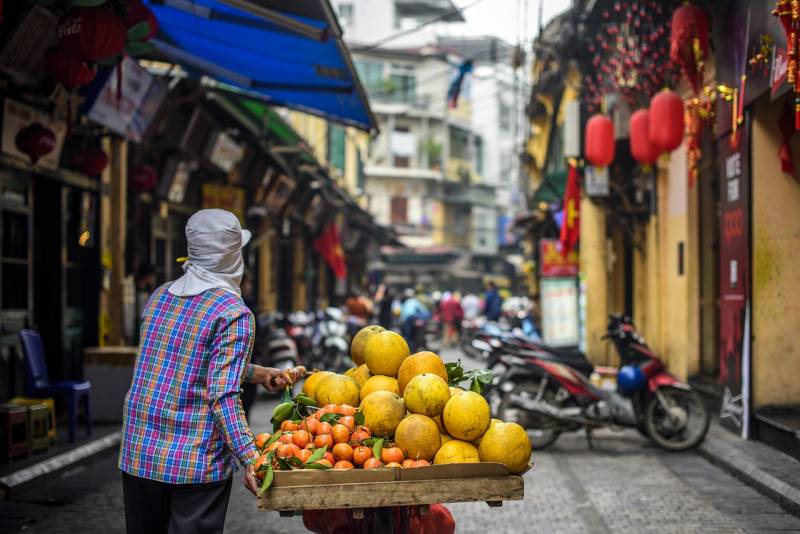 Where to buy souvenirs in Vietnam
In addition to those places mentioned individually above, here is a recap on the best places to do some shopping for in Vietnam.
Ho Chi Minh City
Ben Thanh market
Lucky Plaza on Nguyen Hue.
Sense Market
Tan Dinh market
Saigon Square
Cholon market
Da Nang
Han market
Con market
Hanoi
Hanoi Old Quarter
Hang Gai street
Trang Tien Plaza
Vincom Tower
_________________________________________________________________
What's your favourite souvenir from Vietnam?
Any questions? Be sure to save this post so that you can easily find it when you need it.
And don't forget to share it with anyone planning a trip to Vietnam soon!
>> Read next: The 10 best cheap islands to visit in Asia and around the world
Looking for more souvenir guides? Check out this fantastic one for the best things to buy in London.
Happy shopping,
Rai x