Don't fall for "the Grand Palace Bangkok is closed" SCAM
Hey traveller. If you're visiting the Bangkok Grand Palace soon, here is information on everything you need to know before visiting. Important information such as the significance of the palace in Thai Buddhist culture, opening hours, dress code, entrance fee, and how to get to the Grand Palace in Bangkok. I also go into detail about a scam that is often tried on tourists outside this Royal Palace.

Read on for the full scoop. Reading time: 5 minutes
>> Related reading:
You cannot miss a day trip to Ayutthaya from Bangkok. Full details here.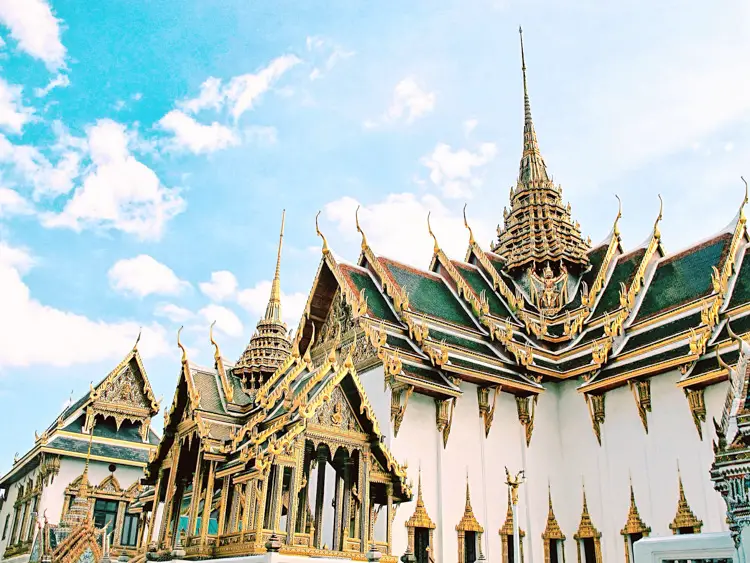 "I'm sorry. Sorry Sirrrrrr, the Grand Palace is closed!"
"Excuse me?" I respond.
"Grand Palace Bangkok. NO OPEN TODAY." The Thai man in a loose-fitting shirt and track pants repeats. His hair, weeks since being dyed bright orange, now looks odd under the heat of the Bangkok sun.
Keicheiro, my travel friend from Japan who I had met in Malaysia, and I look at each other, perplexed.

Wondering what the hell is going on.
We had planned to spend the entire morning exploring the Bangkok Grand Palace, looking forward to seeing the grandeur and significance of this important sight in Thailand.
"Ceremony today. Palace reopen at three," he continues, waiving three fingers in the air. "Lucky Buddha open today only. Let me show you," as he proceeds to signal a tuk tuk in waiting.
"Today O-N-L-Y" He repeats.
Many questions are exchanged as he tries, desperately, to get us to go with him.
After much deliberation and confusion — we decline his offer and continue on, making our way to the main entrance of the Grand Palace…
To see for ourselves if the Grand Palace is open or not.
And no surprise there -> it was completely open  🙂
He will continue to try this trick on other less aware tourists.
Don't be one of them!
If you do happen to go with them, at the so-called Lucky Buddha temple, another man waits with the same story.
What they are trying to achieve is to get you to take a ride with their tuk-tuk buddy "for a tour" where you'll eventually land up at some souvenir or jewellery shop or the like.
They earn commission from the money spent at these shops and from the tuk-tuk driver too.
Other variations of this scam in Bangkok would be a long tailed boat ride along the Chao Phraya River or a visit to the king's royal cashmere factory instead.
DON'T FALL FOR THIS.
The only time the Grand Palace complex in Bangkok is entirely closed is when it is being used for state functions, which rarely occurs.
And this can be confirmed with your hotel/host prior to visiting or from the main entrance of the Bangkok Royal Palace itself.
>> Must read: 7 common tourist scams in Hong Kong and China 
(+ how to avoid them)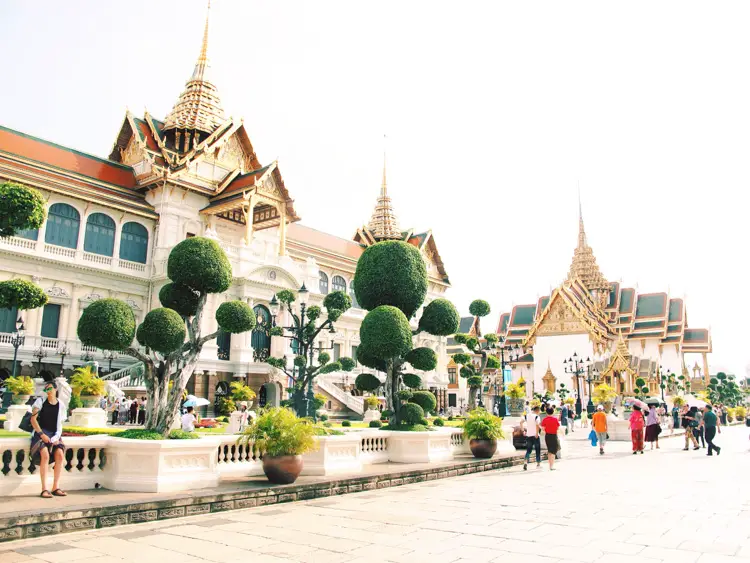 Let's talk about why the Grand Palace is so important….
More information about the Bangkok Grand Palace
A popular tourist attraction, the Grand Palace is one of the most visited sights in Bangkok and all of Thailand.
And with good reason.
The royal palace complex houses sacred sights and amazing archetypal Thai style buildings, making the Grand Palace in Bangkok the heart of the Thai kingdom.
Built all the way back in 1782, the palace was the home of the Thai king and Royal court for more than 150 years.
In the complex you will find impressive structures, amongst others, the Royal Residence, the Throne halls and Wat Phra Kaew.
This Temple of the Emerald Buddha is Thailand's most sacred and revered places, housing the small but highly prized Emerald Buddha (Phra Kaew Morakot) dating back to the 14th century.
The revered Emerald Buddha in a meditative position was meticulously carved from a single block of jade. The changing of the robes of the Buddha marks an important ceremony in Buddhist culture.
The Palace is currently used for the hosting of royal ceremonials, official gatherings, the welcoming of the king's guests, and other auspicious and government events.
Here's some pointers worth knowing:
Good to know before you go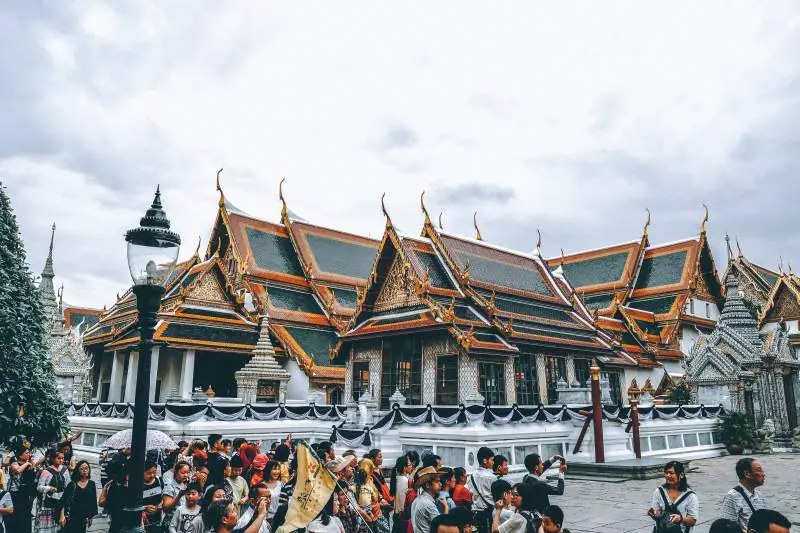 Opening hours Grand Palace Bangkok:
The complex is open daily from 8:30 am with the last entry being 15:30 pm and the palace closing at 16:30 pm.
While the grand Palace grounds are open everyday (unless being used for state functions) the audience hall is only open during weekdays.
Grand Palace entrance fee 2021:
To enter the Grand Palace, foreigners are required to pay 500 Baht.
It is free to enter the palace for locals.
The entrance fee also includes admission to some other sights around Bangkok, including Vimanmek Mansion (Thai national heritage museum) and Abhisek Dusit Throne Hall.
The list varies and can be confirmed on purchase.
The Grand Palace Bangkok dress code:
A strict dress code is enforced at the Grand Palace.
Visitors must be properly attired before gaining entry into any of the temples.
As this is a holy sight, please remember to dress appropriately.
– Men: long trousers, no shorts. Shirts or t-shirts with sleeves (no sleeveless or tank tops)
– Women: Modestly dressed. Covering shoulders, knees, and ankles (no leggings)
Sandals or flip-flops must be accompanied with socks as bare feet is not allowed in the main temple.
If you arrive without being appropriately dressed, there is a booth near the main entrance gate that provides clothes to cover up. A deposit is required in this regard.
Grand Palace Tour Bangkok:
The visit to the Grand Palace Bangkok is easy enough to do independently, but should you wish to know more about the history, cultural significance, and finer details not found in books, this walking temple tour found here is highly recommended.
There are free-guided tours in English available four times throughout the day. As an alternative, an audio guide can be rented for a small fee.
Check out these other tours around Bangkok that should not be missed:
Bangkok Grand Palace how to get there:
Take the Chaophraya Express boat to Tha Chang.
From here it's a quick walk until the high white walls of the Palace are spotted.
Grand Palace address:
The Grand Palace can be found at:
Na Phra Lan road, Phra Borom Maha Ratchawang, Phra Nakhon District in Bangkok.
>> Read next: Going to Ayutthaya? Everything you need to know about visiting Ayutthaya here.
If you're visiting the Grand Palace in Bangkok soon, I'm sure you're going to have a fascinating time.
Have any questions not addressed above? Let me know and I'll be happy to answer.
Please take a moment and share this post with anyone visiting Bangkok soon. Thanks guys…
พระพรมากมาย,

Rai