The [TOP] Tourist Spots in Tagaytay Philippines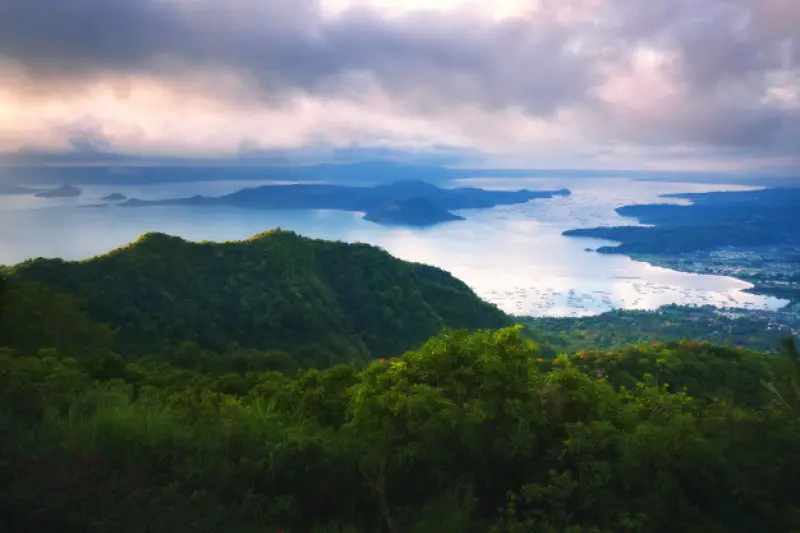 Tagaytay, loving referred to as the second Summer Capital of the Philippines, is a city rich in culture, natural beauty, welcoming locals, iconic views, and notable landmark attractions. Read on to discover a list of the best Tagaytay tourist spots. You will find a list of things to do and places to visit in Tagaytay.
Located in the province of Cavite, Tagaytay is one of the country's most well liked tourist destinations, known for its year-round cool and misty weather. Being a tropical island, the Philippines is subject to a warm and humid climate all year round, which is why Tagaytay has easily become a favorite weekend getaway spot for tourists. It doesn't hurt that this underrated city is only about an hour to an hour and a half's drive away from Manila.
Tagaytay is not only known for its weather, but also for an array of fun, outdoor activities you can do. The city, overlooking the Taal Lake in Batangas, also gives you one of the best views-in-the-country.
Gone are the days of Tagaytay merely being a small town in the province, because today, Tagaytay has boomed and developed more than ever. And, not to mention, you get a whole lot of cheap thrills!
Tagaytay is known as one of the best cities to shop, especially if you're looking for delicious food, fresh fruits, vegetables, flowers, and souvenirs. Maybe you'd rather try balut and other exotic foods?
If you're looking for a place to relax, be immersed in nature, breathe in fresh air, and experience cool weather in such a tropical country, Tagaytay has it all.
What more could you ask for?
Here's a beginner's guide on all the best things to do in Tagaytay and its noteworthy tourist spots.
>> Read next: Where to stay?
Here's a list of the best beach resorts in Batangas.
THE TOP TAGAYTAY TOURIST SPOTS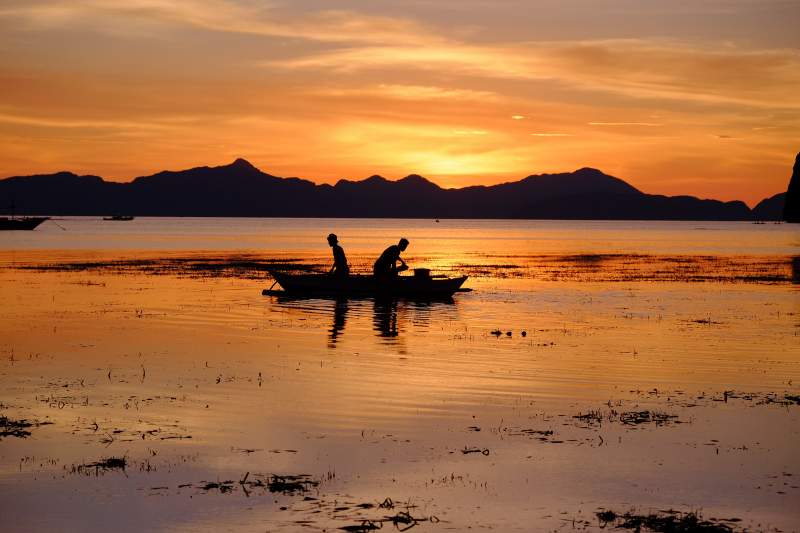 Taal Volcano Trekking and Hiking Adventure
Taal Lake and volcano are probably the most popular Tagaytay tourist spots.
You can't miss the opportunity to witness the smallest volcano in the world. However, do note that it's not located in Tagaytay. Taal Lake and Volcano are actually a part of Batangas. It's just that Tagaytay gives the perfect panoramic view of both the lake and the volcano at the same time.
With that, one of the most popular things to do in Tagaytay must be trekking and hiking your way to Taal Volcano. In fact, it's one of the easiest + shortest treks, perfect for beginners. The trek towards its peak and viewpoint will only take about an hour.
From this vantage point, you are rewarded with picturesque views of the lake and volcano. If you opt to do it, you can also choose to ride on a boat. And, if you're lucky, your boat driver might just share old stories and myths about the lake.
Elevation: 311 m 
Last eruption: 1977 
Location: Talisay and San Nicolas, Batangas, Luzon, Philippines
Play Golf at a Mountain Resort
Don't miss out on the chance to get in a round of golf. Situated on one of Tagaytay's ridges, Tagaytay Highlands is home to Asia's most exciting golf course, and the first and best mountain resort there is in the Philippines.
The Highlands and Midlands International Golf Clubs consist of 18 and 27-hole challenging golf courses to beat, with a whole lot of obstacles that include sand-traps, man-made lakes, and some dramatic elevation differences.
Unleash your inner Tiger Woods as you play golf all afternoon. Think it can't get any better than this? Tagaytay Highlands also is the first mountain resort in the Philippines to introduce Swiss cable cars, which are mostly used by golfers as they travel from one course to another.
Enjoy A Fun Afternoon At Tagaytay Picnic Grove
Picnic Grove remains a classic tourist spot and one of the most notable places to visit in Tagaytay, especially for families. At this recreational area you can either opt for a cottage where you can eat lunch or afternoon snacks, or set up a mat on the ground to enjoy a full-on picnic vibe.
All of this comes with incredible views of the Taal volcano lake.
That's not all though. Aside from picnics, Picnic Grove is also known for its variety of fun, outdoor activities such as horseback riding, ziplining, cable car ride, and an eco-trail, among others.
Souvenir shops are also just around the area, where you are sure to buy some fine "pasalubong" Tagaytay merch including shirts, mugs, keychains, bracelets, and hats to name a few.
Do note that it can get crowded on the weekends.
Entrance fee 2021: Php 50 per person to enter
Parking: Cars or Vans – Php 35 per car
Cottages: Php 100 – 500
Horseback riding: Php 200 per hour
Zip-lining: Php 300 per person
Address: Tagaytay Picnic Grove Complex, Barangay, End, Tagaytay, Cavite, Philippines
Opening Hours: Everyday 7am – 7pm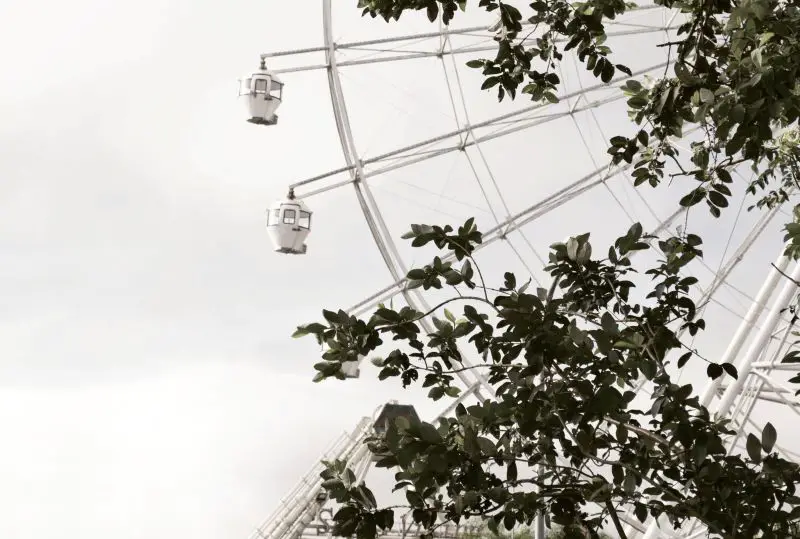 Trigger An Adrenaline Rush At Sky Ranch
I mean, who doesn't love amusement parks? 
If you want an adrenaline rush, then you should definitely check out the Sky Ranch tourist spot in Tagaytay. Spend one full day at this park, and get your heart racing as you ride the roller coasters, vikings, ferris wheels, and so much more!
The Sky Eye ferris wheel, better known as the Tagaytay Eye, is the most famous ride here.  The ferris wheel is the tallest in all of Tagaytay and should not be missed. Allow this ride to take you on a sightseeing tour, 63 meters above the ground. The best thing about this is that you get full, 360-degree views of nature at every turn.
Sky Ranch is a popular option for families too. As for kids, there are also a ton of kid-friendly rides like pedal boats in pools and the classic grand carousel that will definitely light up their eyes with excitement.
Sky Ranch entrance fee 2021:
Weekdays: Php80
Weekends: Php100
Free entrance for children 3ft and under
Address: Tagaytay — Nasugbu via Tuy Road, Barangay Kaybagal South, Tagaytay City, Cavite
Opening Hours:
Monday – Friday 10am – 10pm
Saturday – Sunday: 8am – 10pm
Spend A Day of Tranquility At Sonya's Garden
Immerse yourself in nature during an outing at this popular Tagaytay tourist spot. You name it: a restaurant, a wedding venue, a bed & breakfast, a garden – Sonya's Secret Garden does it all and in fact, does it all well.
This place is just magically filled with plants and flowers at every turn. More than a garden, it's also a restaurant that offers organic food freshly picked out of its garden. As a bed & breakfast, Sonya's Garden provides rooms for travelers, complete with a relaxing swimming pool where you can take time off and dip in at your leisure.
To top it all off, Sonya's Garden is also a perfect wedding venue, where guests can take pictures (but no picking!) with plants and flowers, and where the bride and groom seal their first kiss as husband and wife while surrounded by the beautiful garden.
You can also purchase some breads, fruits, plants, and other souvenirs at their novelty shop, should you wish to take a part of this beautiful garden home with you.
To get here, ride a jeep from Olivarez until you reach Buck Estate. From here it's a quick walk. Don't forget to bring some insect repellent along.
Sonya's secret garden entrance fee 2021: It is free to enter and walk around. Other activities priced individually.
Address: Barangay Buck Estate, Alfonso, Cavite, Philippines
Opening Hours: Monday – Sunday 8am – 6pm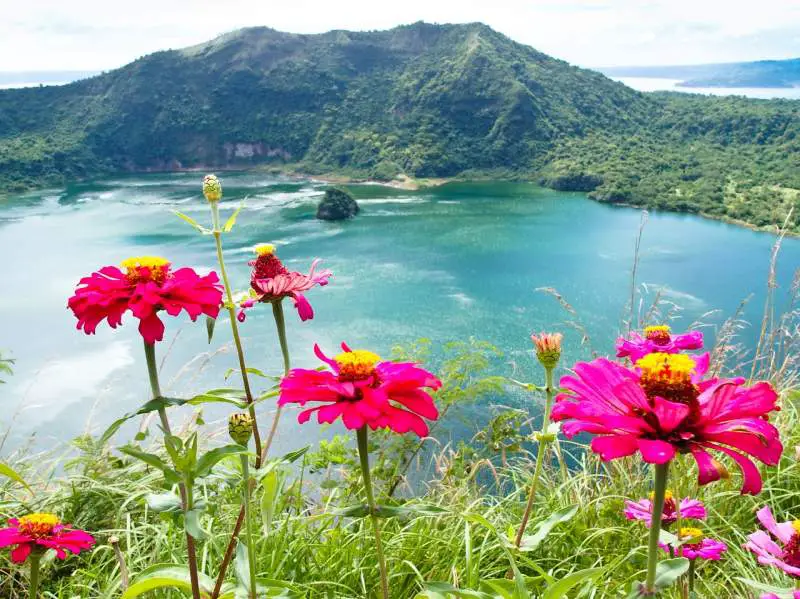 Admire the view from People's Park in the Sky
If you're looking for a fun spot that offers 360° views of Tagaytay and the surrounding area, People's Park in the Sky is your best bet. This urban park, converted from an incomplete mansion is located on Mt. Sungay, the highest point in Tagaytay.
The park is a little rundown and in need of some serious renovation, but does offer a cool atmosphere, fresh air, and those beautiful vistas. If you have the time and are so inclined, be sure to check out the view from all the levels and not just from the highest point as each offers something different.
Once at the entrance gate, you have the option to either ride the jeepney or walk up the hill to get to the top. Numerous souvenir shops and hawkers can also be found at the top.
People's Park in the Sky entrance fee 2021: PhP30
Bus to go up the hill –  PhP10 per passenger
Php100 to hire a table in the picnic area

Address: Tagaytay – Calamba Rd, Tagaytay, Cavite, Philippines
Opening Hours:
Monday – Thursday 8am – 6 pm
Friday 7am – 6pm
Saturday 7am – 6pm
Sunday 7am – 5:30pm
Be amazed at the Puzzle Mansion collection
This museum in Tagaytay housing a collection of jigsaw puzzles is another interesting place to visit in Tagaytay. This museum holds the Guiness world record for the biggest collection of puzzles of all sizes numbering over 1,500.
Do note that it is a pretty difficult drive to get here because of the steep hill going into the museum.
Puzzle Mansion entrance fee 2021: Php100
Address: Cuadra Street, Brgy. Asasin, Tagaytay, Cavite, Philippines
Opening Hours: Everyday 8 am – 6 pm
Admire Art at Museo Orlina
A Tagaytay tourist spot showcasing the works of Orlina, Museo Orlina comes highly recommended to the art lover. The gallery comprises several floors housing glass sculptures, and art pieces. 
Museo Orlina entrance fee 2021: PHP100
Discounted rate for students and senior citizens: PHP80
Address: Hollywood Subdivision Road Brgy. Tolentino East, Subd, Tagaytay, Cavite, Philippines
Opening Hours: Tuesday to Sunday 10am – 6pm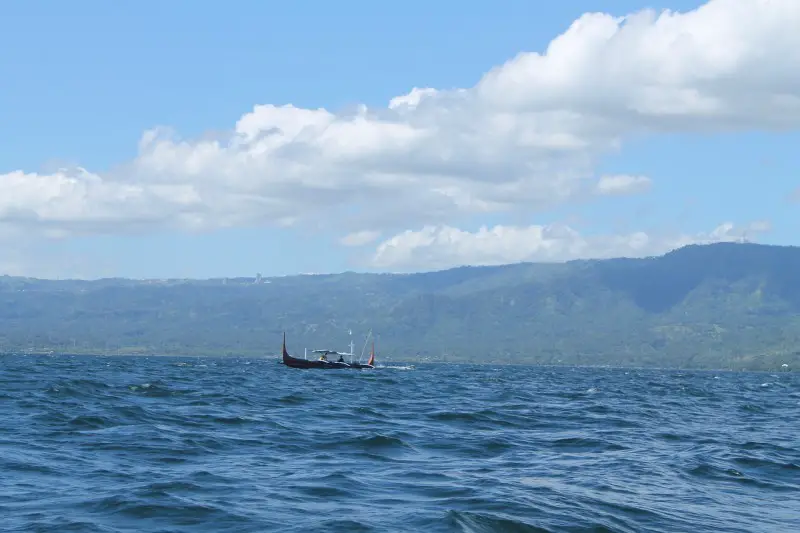 Wrapping Up
Whether you're looking for a place to stay permanently or travel to for a short period of time, Tagaytay is definitely the best place to be. So, what are you waiting for? List down all these things, pack your bags, and spend a restful yet fun weekend only here at Tagaytay City!