The Best Activity Holidays in Italy → Adventure in Italy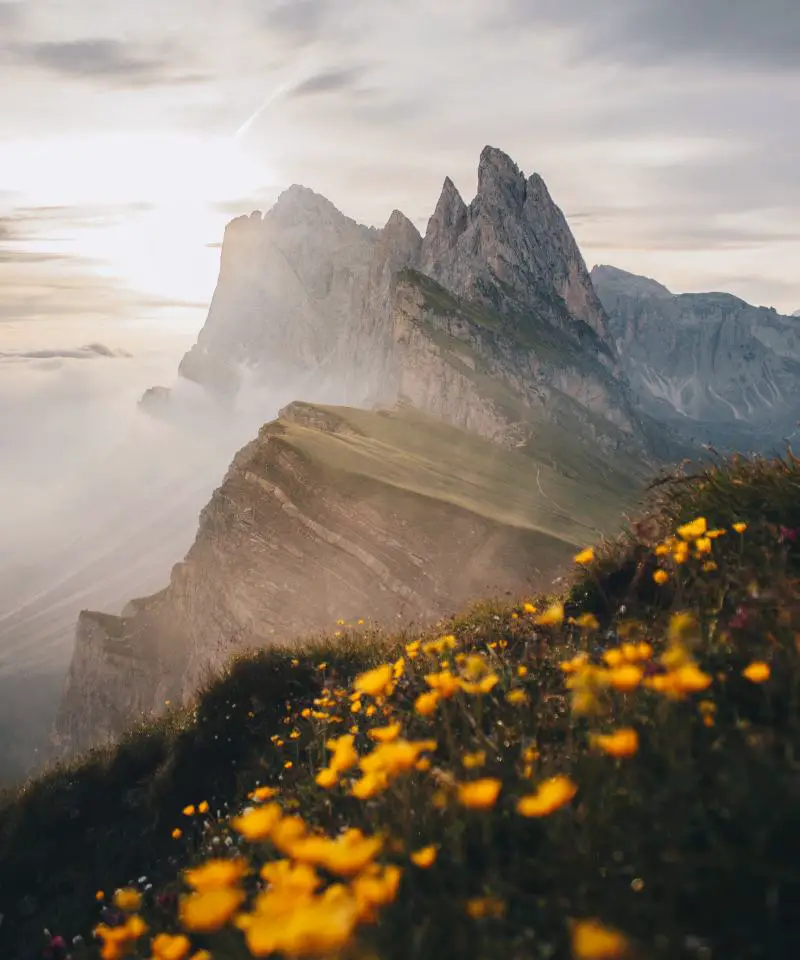 Italy is a beautiful country worth visiting for its dramatic landscapes, divine food, spectacular cities, art treasures, passionate locals, and rich history. It is also a great destination for anyone looking for outdoor action, far from the usual sightseeing and exploring. Sure, looking at ancient ruins and eating gelato all day is great, however if you are heading to the country soon, here are a handful of sporting activities in Italy to try. 
These adventurous activities are guaranteed to provide a complete adrenaline rush while simultaneously allowing you to explore the country from a totally different angle. 
Read on to find a whole lot of inspiration for an active holiday in Italy. From paddle boarding to racing, cycling, golfing, hiking, and skiing, these sporting and activities holidays will quench your thirst for adventure in Italy.
>> Related reading:
1 | SKIING IN MONTE ROSA
Italy has long been a popular destination for avid skiers from around the world. The country has excellent infrastructure, fine weather, and incredible scenery. 
Home to some of the world's best ski resorts, with most resorts set amidst towering mountain peaks, you are guaranteed to enjoy your skiing activity holiday in Italy.
Monte Rosa is one of the tallest mountains in the Alps, featuring a lovely ski area and 180 kms of slopes. Until recently, it has been a well-kept secret among Italian skiers. The ski resort's excellent slope quality and numerous piste skiing opportunities are hard to resist. 
Monte Rosa offers skiing opportunities for all levels. The views here are spectacular, with good snow reliability and long runs that connect picturesque villages.
Most ski resorts in Italy are open from the end of November until mid-April. Take note that prices usually skyrocket during the peak season, including important events and holidays. To get the best value for your adventure holiday in Italy, schedule your trip outside of these busy periods.
2 | CYCLING IN THE DOLOMITES
Italy is one of the premier cycling destinations in Europe, along with Spain and France. Given the country's incredible scenery and varied topography, it's no surprise that the nation is a major destination cycling, ensuring a memorable and unique cycling holiday. 
You will find a number of options for your cycling trip. How about a ride through the world-famous high mountain passes of the Dolomites region? Maybe a journey through the lovely Lombardy region? Alternative, choose to take part in one of the many Italian cycling events that occur throughout the year. 
If you choose to bike through the Dolomites, you will be rewarded with stunning mountain scenery and equally impressive sunrises. The roads, well connected into loops, are suitable for bikers of all levels. The cherry on the top? Most villages have cafes where you can stop, relax, and take in the charming scenery before continuing along on your journey. 
Lake Como, which lies in Italy's Lombardy region, is another popular cycling hotspot. The route stretches from Lake Orta in the west towards the famous Lake Garda in the east. 
You will pass through eight scenic lakes, offering remote yet incredible paths. Whether you choose to enjoy leisurely lakeside pedalling from one village to the next or challenge yourself by climbing in the Giro, cycling in Lake Como is an activity in Italy you will never forget.
3 | PADDLE BOARDING ALONG THE AMALFI COAST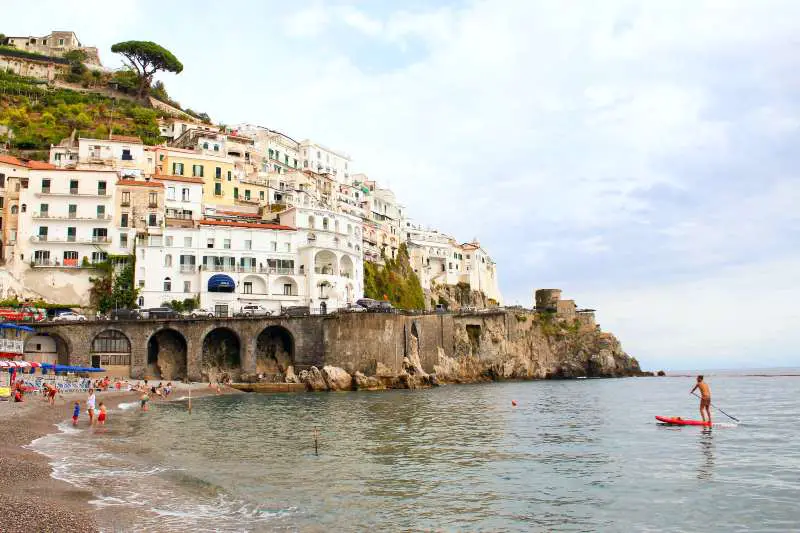 When it comes to paddle boarding and activity holidays in Italy, the Amalfi Coast is the perfect destination.
Located in Italy's Campania region, this UNESCO World Heritage Site is famous for its stunning coastal cliffs dotted with multicoloured villages along the turquoise waters of the Mediterranean. 
The best time to go paddle boarding along the Amalfi Coast is in summer, between the months of May and September. During this time, the Italian coast enjoys favourable temperatures and light winds with very low rainfall. When visiting during the hottest months of July and August, be sure to remain hydrated and to take other precautions against the Italian summer heat.
During your downtime, explore the picturesque seaside villages of the Amalfi Coast. 
The pastel coloured Positano attracts the rich and famous for its glamorous vibe, luxurious cliffside resorts, and fine dining restaurants.
Meanwhile, Ravello – home to ancient villas overlooking stunning ocean views – has a more laidback feel. Don't pass by the coastal village of Amalfi without trying its world famous limoncello.
4 | RACING THROUGH TUSCANY
For those attracted to fast cars and the lifestyle that it brings, plan a racing adventure holiday in Italy. Rent a car and drive around the country along its scenic roads and classic highways. 
Italy's prestigious Grand Prix, hosted in the city of Monza, is a must-see for every car racing fanatic. Is that you? Then you must get tickets for the Italian Grand Prix and schedule your visit to Italy to coincide with this famous racing event.
You'll find plenty of scenic routes to take when exploring Italy by car.
One of the most recommended routes is that from Tuscany to the Amalfi Coast. Start your journey in Florence or Pisa, best known for its iconic leaning tower. Head out to Tuscany's medieval hill towns, stop at San Gimignano's centuries-old town, and explore Volterra's Roman amphitheatre. You will then pass through serene Italian countryside before reaching your end destination, the Amalfi Coast. 
If you prefer to venture off the beaten path during your tour of Italy, drive towards Puglia. Tucked in the heel of "Italy's boot," only a handful of intrepid explorers venture into this part of the country. It's a region of picturesque seaside towns and understated charm, and those who do are rewarded with beautiful sights and secluded beaches.
5 | GOLFING IN ROME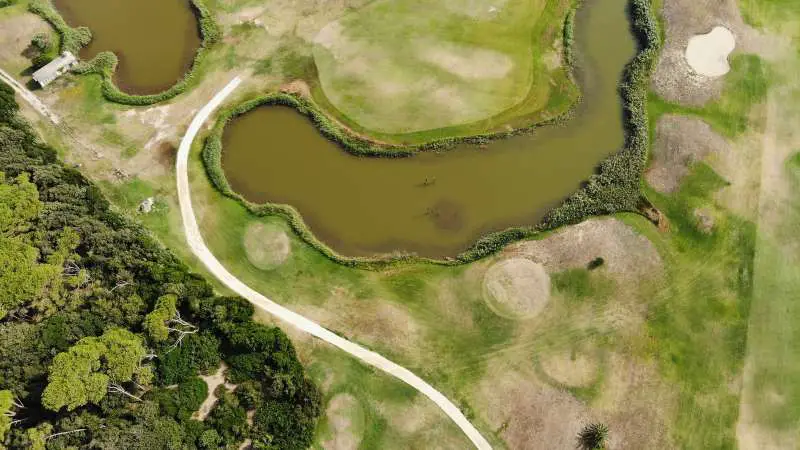 The country is home to some of the best golf courses in the world, making Italy an excellent destination for a golfing holiday. However, despite being a popular destination for golf, Italy has considerably quieter fairways compared to its European neighbours.
The options in Italy are fantastic, and players can benefit from the year-round temperate climate.
Aside from the great golfing quality, Italy offers a wonderful combination of culture, history, scenery, and cuisine that is sure to bring a smile to your face. Known for its wide offerings of fine wine and the world's greatest cuisine, your active holiday in Italy is bound to be a memorable one.

Are you adventurous in your eating too? Check out these crazy weird foods eaten around the world.
For an exciting luxury holiday in Italy, the Eternal City is an ideal destination, especially during the spring months in Rome. Aside from being one of the grandest cities in Europe, it's also home to some amazing golf courses. The most of them all is the stunning Marco Simone Golf & Country Club, which is set to host the 2023 Ryder Cup. 
If you prefer something that's a little more Mediterranean, head to Verdura Resort. Set along a 2-km private coastline, it offers a championship course, with intricate and challenging holes weaved in and is another of Italy's finest golf courses.
---
Here's to an adventurous time in Italy. Salute!

Buon viaggio,

Rai